Troye Sivan Live at the Hollywood Palladium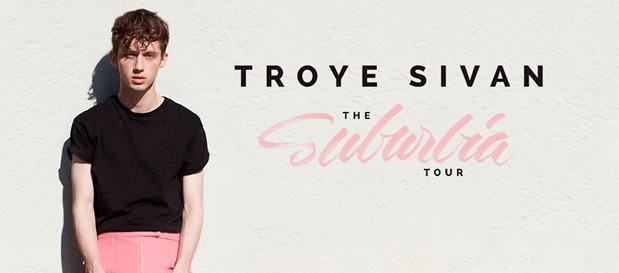 On October 19, 2016, Troye Sivan–a South African-born Australian indie pop musician–played the Hollywood Palladium for hundreds of fans. It was the third show of his Surburbia Tour of the US and Canada. The concert was all-standing and fans got anxious waiting for Sivan to come on.
First the opening acts played. The crowd was ready for some music after a few hours of standing in line and waiting. FRANKIE played a few of her songs, such as Chaos, but the crowd went crazy for her last catchy song, New Obsession. She had very good stage presence and the crowd started singing along as soon as they heard the lyrics. Astrid S. charmed the audience with her innocent and cutely nervous personality and was thankful for the crowd's applause. She played Jump, Paper Thin, and Hurts So Good, which the crowd loved. Astrid S. also mentioned that she was from Norway and loved LA's warm weather and palm trees. She shared some of her inspiration for her songs, which the crowd respected and supported.
Finally, the moment everyone was waiting for finally came. The fans roared as the intro to Troye Sivan's Wild played. A fog machine blurred the stage as Sivan appeared. The crowd sung every word in unison. Sivan was grateful for the applause when he finished. He began to talk about how since he was a kid, he'd always dreamed of performing in Los Angeles, and how much he appreciated everyone's support in getting to where he was today. He played all of his Blue Neighborhood album and Happy Little Pill off his previous album TRXYE. He also sung Blue with Alex Hope, his writer and producer, for the first time ever live. Alex was visibly nervous, but the audience loved her and applauded very much. He ended the concert with Youth.
The fog, lights, and loud music added to the concert experience. Sivan constantly encouraged the audience to sing, and stated it sounded "amazing". Toward the end of night, he deemed the show a "15/10" on the "scale of lit-ness". The audience couldn't agree more.
I really enjoyed this concert! Troye Sivan sounded amazing live and interacted with the audience and amused them. The concert was very cheap but worth much more than what it cost. It was a very special and memorable experience that the crowd definitely loved.
About the Writer
Naomi Boodhoo, Editor-In-Chief
Naomi Boodhoo (12) is this year's editor-in-chief of the Shark Attack, returning for her third year. Outside of her busy senior year coursework, she can...