Top Ten Romance Movies to Watch in February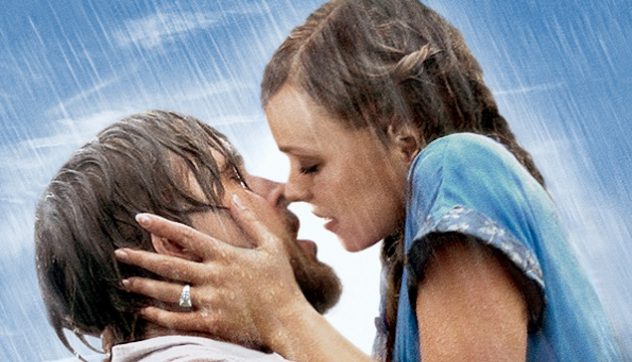 Kayla Hageman, Staff writer
February 17, 2017
Love is in air, chocolates and flowers are being bought- it's February. February is the time when you and your love will be experiencing date nights, or maybe if you are single you, might want to spoil yourself and splurge on some sweets! Whether you are going out or staying in, here are ten romantic and funny love stories you should watch during the month of February!
1. The Notebook
In this tragic, yet romantic tale, Noah and Allie share a love story that made hundreds of thousands of people cry. Noah and Allie meet when they are teens at a fair; to get Allie to agree to go on date with Noah, he hangs from the top of the Ferris wheel pleading for a chance. As the story progresses, fights between the two lovers break out, and yet their love never died. Allie's mother makes the decision to take Allie away from Noah; she didn't believe Noah would benefit Allie's future. After a year, Allie comes back to Noah, she's engaged, but she still feels everything she used to. Once they reconnect, it fast forwards to Noah and Allie sitting in an old folk's home laying together. What happened next, hurt the hearts of many, but I won't spoilt it for you. 😉
2. 10 Things I Hate About You
In this funny, relatable movie, Kat, a very rebellious boy hater finds an unlikely love in someone that her sister and her sister's future boyfriend were trying to set her up with. As Bianca's obsessed crush finds out that Bianca can only date if her sister does, he sets out on a mission to do just that. By paying Patrick (Heath Ledger), he must convince Kat to go on just a single date. This unlikely duo, a boy hater and the school's bad boy, find a love that no one, not even Bianca was expecting. However, will this love last? Watch the movie in full to find out more.
3. Crazy Stupid Love
Before I go any further, I would like to say the reason this is so high on this list is Mrs. Drum wouldn't let me write the list without this, hahah just kidding, but it is one of her favorites. This corky and funny romance, delves into the lives of three couples and tells of the trials and tribulations that the couples have to face. One of the couples is made up of, a middle-aged man (Steve Carell) and his wife (Julianne Moore) who portray an unfaithful relationship in which the man discovers that his wife has cheated on him, and thus he must regain a sense a purpose. This sets the movie in motion as the man then goes to a bar in which he meets a man that might be half of the second couple, if the woman played by Emma Stone will give him a chance- after she figures out to do with her current underappreciative boyfriend. Watch thins movie for an interesting twist, good hearty laugh, and amazing cuddles as you both will be consumed by the drama and comedy.
4. Titanic
The story that millions talk about to this day, Jack and Rose, one of the most tragic love stories to air to this day. The two met on a ship headed to America. Rose was with another man, but when she laid eyes on Jack, a fun loving "working class" man, she fell for. However, tragedy hit quicker than their love did. As the iceberg hit and took the lives of hundreds, Rose felt the most significant pain of losing a soulmate, someone she had hoped she would spend forever with. Forever was cut short.
5. Clueless
In this totally relatable romantic comedy, Cher one of the most popular girls at school vows she doesn't need a boyfriend, but an unsuspecting candidate flies right under her radar. Cher and her best friend are so focused on helping the new girl at school that she doesn't even realize she is falling for her EX stepbrother. When she realizes that he's the one that has her heart, is when the new girl Tai, asks Cher if he is available to date. Cher suddenly grasps the concept of really falling for someone, even if it's totally not what she expects. Watch the movie to find out who the young man decides to love back in this fun and unique romantic comedy.
6. How to Lose a Guy in 10 Days
In this love story Andie, a journalist for a girly magazine, needs to write a story on "how to lose a guy in 10 days". Little did she know, the man she chose to do her little experiment on, equally made a bet with his "bros" that he can make any girl fall in love him in only 10 days. As they both really fall for one another the truth comes out that both were just bets framed around who could scam who. Did this reveal ruin the relationship or did their unexpected love truly conquer all?
7. The Wedding Planner
In this love story, nothing gets in the way of true love. Mary is the wedding planner for a man she was saved by, Steve (Matthew McConaughey). As she plans the wedding for Steve and his soon-to-be-wife, she suddenly falls for him, breaking the number one rule in the "wedding planner" book. Even though it didn't seem likely that Mary would get the guy, since she respected him and his fiancé too much, a turn of events changes the entire plans. Who will get the guy, the planner or the soon to be fiancé?
8. A Walk to Remember
Based on a Nicholas Sparks novel, A walk to Remember made many viewers cry their hearts out. A teenage romance blossoms between Landon and Jamie, but when Jamie is diagnosed with a terminal illness, Landon will do anything to make her last moments memorable. The improbable couple made the hearts of many burst with sadness. Did the two beat this bump in the road or did "till death do us part" mark their end?
9. Pretty Women
A rich man hires a woman of the night to be his girlfriend for the week. As they begin to learn and start to fall in love many problems are thrown into their faces. Her past and his future seem to clash. The unlikely and complete opposites, make the perfect couple, but will their love last once the week is over?
10. The Wedding Singer
To end off this list, lets end it with a classic romantic comedy- The Wedding Singer. Robbie, the wedding singer, gets asked by his coworker, who he has a crush on to sing at her wedding. As the wedding plans continue Robbie finds out the bride's fiancé is cheating on her every single chance he gets. Since Robbie would do anything to see her happy, he keeps being there for her and eventually the good guy always gets the girl.
Although this list is complete, here are a few honorable mentions filled with love, comedy and tragedy: Footloose, The Prince and Me, The Ten Year Plan, Affair to Remeber, and love actually. If you agree with our list or maybe have a few other additions, comment below! The Staff Writers of The Shark Attack at Santiago would love to hear all about your favorites.