Bruno Donates One Million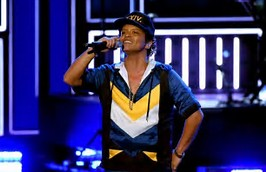 Hang on for a minute...we're trying to find some more stories you might like.
On August 12, pop sensation Bruno Mars made a donation that would help hundreds of people. Mars recently performed in Auburn Hills, Michigan where he reminded the crowd of the Flint Water Crisis. In 2014, the citizens of Flint, Michigan were exposed to lead from their newly installed water pipes. This became a large concern considering lead can damage young children's brain development. Due to these health concerns, water pipes are no longer made from lead. However, old cities such as Flint had been relying on the older lead pipes. The mayor of Flint, Karen Weaver, believes it will be years before the water is healthy to drink. Children and adults affected by this will need help for the rest of their lives.
The Grammy winner, singer, and songwriter explained to his audience, "Ongoing challenges remain years later for Flint residents, and it's important that we don't forget our brothers and sisters affected by this disaster." The proceeds from Bruno's concert were redirected to the Community Foundation of Greater Flint. One million dollars is the tremendous amounted Mars donated. Numerous magazines and websites have shared Bruno's generous act of kindness. Michigan residents are incredibly grateful for his help as they continue to fight this battle, and will continue to fight in years to come. Isaiah Oliver, the president and CEO of the Community Foundation of Greater Flint stated, "We know Bruno Mars' $1 million gift will be transformative to the children and families of Flint, and we are touched by his concern and generosity." Other artists who have donated to this cause include Big Sean, Pearl Jam, Meek Mill, and Cher.