Monthly Horoscope Love Advice – September
Hang on for a minute...we're trying to find some more stories you might like.
Everyone knows their American horoscope, right? You know, the ones based off of the stars and the one you are depends on your birthday date? As you may or may not know, life advice is given out daily on horoscope.com, depending on what your horoscope is. Other advice provided by this website is – you guessed it. Love advice.
As we all know, a large percentage of us have crush troubles and/or relationship problems. Maybe you don't know how to approach someone you like, or maybe you have a sneaking suspicion that your significant other is cheating on you. Either way, there's always trouble brewing in the love department. To guide you in your troubles, here is some love advice (for both singles and those in a relationship) from horoscope.com for the month of September.
Aries (March 21 – April 19)
Singles – Flirting with your crush will definitely be easy! Your words will flow naturally, which will make you look charming and desirable. You will have potential, future romantic situations, so look forward to that! When having a crush, hope for best and don't worry too much on planning for the worst. Some time later in the month, something bad may occur, but your attitude will make all the difference. When you go on a date and you have a feeling something might go wrong, follow your instincts because it most likely would.
Couples – If you think you said something wrong to your lover and you regret saying it, then this is the greatest time to apologize. This month is the best time in which you both can verbally work out your problems and work together to solve them.
Taurus (April 20 – May 20)
Singles – During this time, you may have a hard time figuring out who's a genuine person and who's a fake one, which could result in bad romantic decisions. However, learn from your mistakes, move on, and don't look back. Have no regrets in what you did.
Couples – Whatever romantic issue you're currently having, relax and let it fix itself. This month for you is a great chance to wrap up your problems and leave it behind. If you choose to work out the issues with your significant other, be willing to compromise, or else you'll get nowhere.
Gemini (May 21 – June 20)
Singles – You will be able to quickly create smooth pick up lines on the go, and none of them will sound cheesy. You may come across some hard truths along the way, even if you're not ready to face them yet. Don't worry, you'll get through them. Be able to point out mistakes you've done while dating, as doing that will help you grow and mature as an individual.
Couples – You will feel more at ease with your relationship. This will allow you to speak what's on your mind. Be able to emphasize the good in your relationship and downplay everything bad that has happened. If you and your partner have an idea or decision that you guys aren't 100% sure on, don't proceed with it.
Cancer (June 21 – July 22)
Singles – Maybe you're not the type of person who likes attention, but for this month, being the center of attention would be beneficial for you. Group dates and friend outings will work out for you, as this will help you avoid awkward one-on-one conversations. Another note: this month is your month! You will dominate the competition for your crush!
Couples – This is the best time for you and your partner to finish all those couples' projects you set out to do and this is when you express your commitment to each other (i.e. posting on social media). You and your significant other will become friends with other couples and will go on double/group dates.
Leo (July 23 – August 22)
Singles – You will receive many romantic offers, but only a few would appeal to you. You will also search for a committed relationship and you will have advances from people you do not deem worthy of your time.
Couples – You may start to have a deep desire for commitment. Your attention may veer off course from time to time, but your loyalty to your significant other will never waiver.
Virgo (August 23 – September 22)
Singles – You will have a serious focus on romance, although you will have fun dating and you will have a lot of hope for the future. Later, you might back off on commitment, not because you're interested, but because you need time to think.
Couples – You will definitely get serious about love. Though you will be nagging on pointless details, you have the relationship' best interests at heart. This is also the best time to make up and right a wrong if you believe you made an error in judgment.
Libra (September 23 – October 22)
Singles – If you had an ex, get some closure on that relationship and don't obsess about it anymore. Be patient while you wait for love; it will come to you.
Couples – You may be fair minded during this month, but also indecisive. It may become hard to trust your significant other's words, but try to. Learn to pay attention to body language as well; it'll tell you more than words will.
Scorpio (October 23 – November 21)
Singles – Try to enjoy receiving attention, because you'll get a lot of it this month. You won't have much control over your dates, so just relax and this will make you a bit more humble, as you are confident all the time.
Couples – Carpe diem! Seize the moment because this month, you may feel more wild than before! If there's something you've been wanting to do, then do it! Of course, you might not be able to do everything, unless you have a willing significant other. Make sure you have a willing partner with you.
Sagittarius (November 22 – December 21)
Singles – You will know exactly what to say and who to say things too; words will flow so easily to you! Be flexible, as this will open many different romantic doors for you.
Couples – Although you won't be the smoothest person in the park in the beginning of the month, you will get your job done. Your commitment in your relationship will deepen and you and your partner will be ready for the future.
Capricorn (December 22 – January 19)
Singles – This is a great time for change, so take into consideration on what you're unhappy with and voice your opinion out loud. If you're interested in someone, make sure you're actually interested in that person, instead of being in love with the thought of dating and the idea of them.
Couples – Make sure you have a well thought out plan, along with a backup plan, as there may be some changes that could force some last minute improvising on you. Your relationship will grow and thrive this month, as long as you keep tending to it. If there's some decisions to be made in the future, don't do things you'll regret.
Aquarius (January 20 – February 18)
Singles – Resist texting to avoid verbal misunderstandings. You may become very selective and only date the best of the best. Sometimes things won't turn out the way you want it to, but it would still be great.
Couples – This is the best month of communication with you and your partner. Stop caring about what others think and shout your feelings out to the world. If you're planning to give out advice and/or criticism to your significant other, try using gentle tactics, or you may run into problems with each other.
Pisces (February 19 – March 20)
Singles – You might have to deal with some romantic unpleasantness, but if you act nice, it'll make it easier to deal with. Being indecisive this month will stand between you and happiness. Don't forget to think about your own feelings as well, not just others.
Couples – This is a time where you wipe the slate clean and start anew in romance (only if you were in a toxic relationship). If you have a committed relationship, this is a great time for you and your partner to plan activities together and with you two, the sky's the limit! If you are starting to have troubles in paradise, wait until the chaos dies down before you plan your next move.
Hopefully, these little tips and advice helped you out and good luck in romance!

About the Writer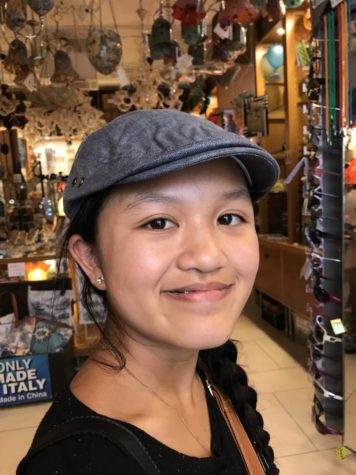 Paulina Bui, Student Writer
Paulina Bui (9) is a freshman writer for the Shark Attack paper. She is a fangirl who lives in fandoms and has fictional character baes. She loves to read,...