Santiago's 2017-2018 Valedictorian and Salutatorians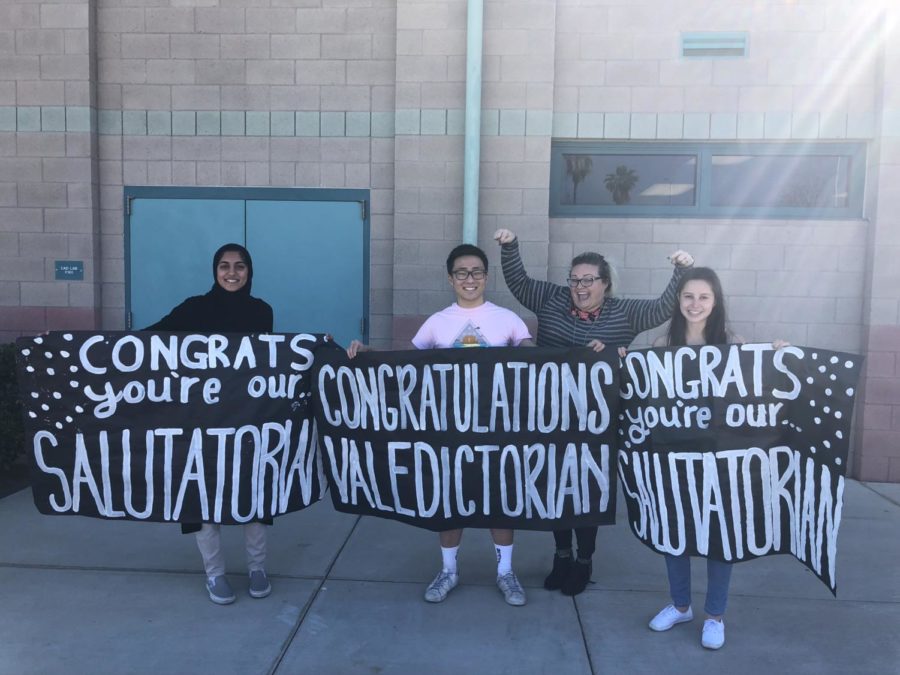 Santiago High School is a sea of scholar infested waters. The vast amount of intellectual talent that the school possesses is quite astonishing, so the three students who have been awarded the top three ranks out of the nearly one thousand seniors are truly the best of the best. Not only do they possess an incredibly high academic skill set, but they also are incredible people inside and out of the classroom.
Here is an inside look at the three brilliant students who are Santiago's 2017-2018 Valedictorian and Salutatorians: Richard Chung (Valedictorian), Maha Malik (Salutatorian), and Emmi Deckard (Salutatorian).
Richard Chung is this years Valedictorian! His cumulative GPA is a 4.8, and he has taken a mind-blowing amount of honors and AP classes throughout his high school career. Richard claims that his favorite part of high school was lunchtime, and his favorite class was Ms. Drum's because "it's a fun class and we learned about a guy with a big nose", referencing the novel Cyrano De Bergerac. At school, Richard is on the swim team as well as the Treasurer of Best Buddies. Outside of school, he assists in hospice care where he is paired up with an elderly patient and provides companionship to them. He claims that he owes his success to everyone. His teacher, friends, and family have been so amazing to him and believes that everyone at Santiago has been so supportive of him and has wanted nothing more than for him to do his very best.
Santiago is lucky enough to have not one, but TWO Salutatorians this year. One of those fabulous girls is Maha Malik. Maha has a 4.75 GPA and has also taken over a dozen honors and AP classes throughout high school. After graduation, she hopes to pursue a career in computer science, as it has been her favorite class in school. She felt that it was a very interesting and different class dynamic because rather than writing essays, the students focus on programming and interactive learning. Her favorite part of school has been spending lots of time with her insanely supportive friends. Outside of school, Maha enjoys going to her mosque to help out as well as spending time with her family.
Santiago's other Salutatorian is Emmi Deckard, who also has a 4.75 GPA. Emmi wants to pursue a career in science as she has taken every AP Life Science class: Biology, Chemistry, and Physics. Her favorite class was AP Chemistry because "Dr. Lachman is funny and it's the first class where I realized that I'm really good a science". Emmi says her favorite part of high school was meeting all different types of people because "Santiago is so big and diverse". Not only is Emmi remarkably talented in the classroom, but she also has a true gift for art! She is a whiz with both a scantron and a sketchpad.
Santiago is so lucky to have these three superstars representing the Senior class. There is no doubt in anyone's mind that they all have an incredibly bright future ahead of them.
About the Writer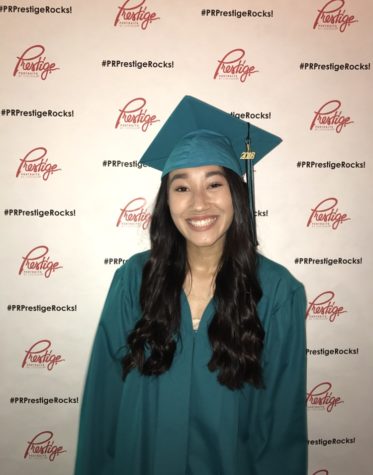 Sophia Hogue, Staff Writer
Sophia Hogue (12) is over the moon to be concluding her high school experience working for the Shark Attack!! Throughout this year, she is committed to...