Shark Story: Sophia Hogue
Sophia Hogue (12) has been in the theatre program for three years and is on her way to UC San Diego, finally departing from her life as a Santiago Shark. She's been in Best Buddies for all four years and became vice-president this year. She is also an active member of journalism and is the sport's editor for the school newspaper!
On top of Sophia's many commitments at school, she is a figure skater and regularly trains at Riverside Ice Town. After a long day of training, she stays at the rink to teach young kids and adults how to skate! She stated "I love my job because I get to incorporate my love for kids with my love for figure skating. My skating coach has left a huge impact on my life, so I hope to do the same for my students!"
Sophia recently finished up her run in the school musical, "High School Musical." She participated on stage as a cheerleader as well as being the show's dance captain off stage. Although she never had professional dance training, she excels at all things dance. When asked about her love for dance and choreography, she claimed "I think my skills in dance derive from over a decade of figure skating training. I was also on the Santiago Hip Hop Team my freshman year." Clearly, this girl has quite the range of talent when it comes to dancing. She can be doing double flips on the ice one second, jazz squares on a theatre stage the next, and can pop and lock on the dance floor the next!
Sophia is an overall great contribution to the Santiago Student body. From being a leader to a performer to a friend, this girl does it all. After her days at Santiago come to an end, she will find herself at UC San Diego majoring in Cognitive Science and double minoring in theatre and human rights. I am so excited to see what this girl is going to do with the rest of her life because I know it's going to be amazing!
About the Writer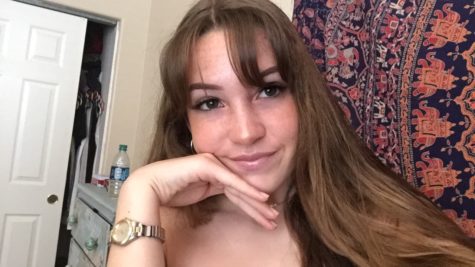 Emma Begley, Staff Writer
Emma Begley (11) is a writer, poetry enthusiast, and activist for human and animal rights, both equally important. She is passionate about her writing...