Qantas Airline Review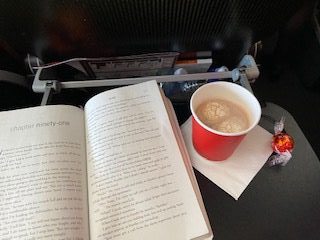 Every year, my family takes an unforgettable vacation, due to my Dad's obsession with traveling. For the past two years, my family and I flew to Sydney, Australia–7,485 miles away–which is equivalent to about 14 hours and 39 minutes on an airplane. When you're stuck in a plane for that long, it's essential to fly with an above-average airline where you can thoroughly enjoy your journey. Qantas is just that.
Plain and simple: the staff is incredible. The moment you walk into the aircraft, you already feel welcomed. They are at your service with anything you might need. It is a breath of fresh air to observe how much the Qantas staff members seem to thoroughly enjoy their jobs. For example, I tend to have really bad migraines on flights. When I asked a staff member for Advil or ibuprofen, they came back with a pill pack (consisting of 4 pills) and even brought me water to drink it down, without me even having to request it. The sweet woman even came back a few hours later to check up on me and ask how I was feeling. She urged that if I needed anything else, not to hesitate to ask. I thought the kindness she showed me was beyond sweet, and truly extraordinary service. Plus, I must mention that I am in love with their Australian accents. Everyone working is happy to be there, which definitely improves the quality of the flight.
The airline food is absolutely amazing. Usually, like most people, I don't have high standards for airplane food–it's microwaved! I used to think it couldn't be good; I couldn't even imagine enjoying it. I am pleased to say, I stood corrected by Qantas's selection.  I enjoyed the food and finished with a clean plate. First, I ate steak with polenta; though I'd never tried polenta, I really liked it. Along with that, there were some vegetables, a bread roll, and a lamington dessert. Admittedly, I did not like the lamington because it had coconut. (However, this opinion is definitely biased due to my abhorrence of coconut; otherwise, I'm sure it would have been pleasant.)  A few hours later, they came around with hot chocolate, coffee, and/or tea. I chose the Cadbury hot chocolate, and when the staff member asked if I wanted marshmallows with it, I couldn't say no. If you look at the featured image of this article, you can see the hot chocolate I was served, along with a complimentary Lindt chocolate.  Around midnight, the staff gave out a lemon-flavored frozen yogurt bar, which was probably my favorite treat that whole flight. Even my Dad (who isn't really fond of lemon) enjoyed it. Now, onto breakfast. After sleeping for a few hours, breakfast was served, and I ordered a frittata with creamed spinach and a mini banana bread loaf. As the kind man was handing it to me, he noticed it had a crack in it. Though I didn't mind at all, he felt bad and gave me two, making my day.
Other notable experiences on the flight include the fact that Qantas meals can be ordered ahead of time, about 12 hours until your departure. Not only that, but they have vegan and vegetarian options, as well as a selection to satisfy the needs of your specific diet. Additionally, one thing that I have never seen in any other plane is a self-serve snack and drink bar. Ever been on a plane thirsty or hungry and you have to wait hours for the staff to bring out food or drinks? The wait is over. I found this hidden gem next to the restrooms. At first, I imagined this was where the airline staff got their supplies and I wasn't allowed to access it. However, I noticed that there was a sign that read that once passengers get their food or drink, to please return to their seat. This meant that at any time I wanted to, I could grab a biscuit or TimTam, as well as a soft-serve drink or water. My brother discovered that on the TV screen at every seat, under the communications button, you can actually message with friends who may be sitting all the way across the plane! Even though my brother and I were sitting literally inches apart from each other, the chat feature came in handy when we didn't want to disturb others while they were sleeping but we wanted to talk. We did see some people use it more practically; for example, two men in front of us had a friend a couple of rows behind them and used that to converse with him. Lastly, I would like to reiterate how nice the staff was when my coffee-addicted dad (he says he just loves the taste) asked for three cups of coffee. They, without hesitation, gave him his coffee and were extremely nice about his excessive request.
Without a doubt, Qantas is an airline I will definitely choose whenever I fly to Australia. With that long of a flight, I couldn't imagine anyone else providing the same pleasant experience as Qantas.