To-Do List for Santiago Seniors
In the age of COVID current seniors are put at a significant disadvantage. As a senior myself, I had a hard time knowing where to start; however, to ease some stress, here's a simple to-do list.
#1: Get your Yearbook Pictures Taken!
It's no surprise that taking school pictures is different this year, but it's actually simpler than expected. To book your appointment click on this link: https://booknow.appointment-plus.com/6s22snqm/ create an account, choose our school, select a session type and studio location, pick an available date(highlighted in blue), and lastly choose the time. There are 4 different session types available to students. The basic session- which is the most affordable option, ($20) includes 4-6 poses, one outfit, and one background. The standard session ($30) is 8-10 poses, the yearbook outfit, and photos with your cap and gown (cap and gown are provided). The deluxe session ($40) features 16-20 poses, up to 3 outfits (including cap and gown), and 4-6 backgrounds. Finally, the ultimate session ($50) is 24-28 poses, up to 4 outfits (including cap and gown), and 7-9 backgrounds. Don't forget to wear your mask when you arrive!
#2: Make a List of Colleges You're Interested In
It's important to research and see which colleges best fit your needs. It's recommended to compile a list of 10 or more. Though college tuition is costly itself, applying to college is expensive too. Each application can cost up to $100, if you have free or reduced lunch make sure you get your fees waived! Additionally, it's helpful to make an excel spreadsheet of colleges you want to apply to, when the applications are due, whether or not the school is test-optional, and if it requires a letter of recommendation.
#3: Ask for Letters of Recommendation
Now that you know which schools require a letter of recommendation be sure to ask your teachers for one! Almost always you need a letter from a core-subject teacher and your guidance counselor. For Santiago, you need to fill out a letter of recommendation request which helps your teachers or counselor get to know you better (the link can be found in the more resources section at the bottom of this article). Since we aren't in school physically, send an email to your teacher(s) and counselor politely asking them to write you one. Remember: it is necessary to give the person writing your letter at least 2-3 weeks' notice of the deadline; however, more time is preferred.
#4: Register for the ACT/SAT
Even though most colleges are test-optional in light of the COVID crisis, if you are able to, it could be beneficial to take it. However, if you decide not to take it, it won't harm your application. If you perform well, there's no harm in submitting your score, it can only help strengthen your application. There are plenty of free resources to assist in studying for the SAT/ACT such as khan academy, @justicethetutor on the platform TikTok who posts videos explaining common test problems, and many more.
#5: Begin Filling out Applications
Most colleges accept the Common App; however, some colleges have their own application process (such as UC's). Regardless, it's best to begin filling out applications now and refrain from procrastinating. Make a separate email account for applications so that important emails don't get lost in your inbox!
#6: Start Writing Your Personal Essays
Personal essays are one of the most important factors in the admissions process. This is your chance to shine and show the admissions counselors who you really are. Try to get teachers, parents, or upperclassmen to edit your essays. There are also people who will edit your essays for free. Yes, for free! @Scholarcash on TikTok (information regarding editing services in his bio), and @heyitsbhavna also on TikTok (email: [email protected]) will edit your essays! On the website www.JamieCaban.com, you can find a college essay checklist and other helpful resources. The College Essay Guy on youtube is also very helpful and informative.
#7: Apply for Financial Aid, and Apply for Scholarships!
Student debt is a momentous issue, especially in the current economic climate. College is tremendously expensive, but thankfully financial aid and scholarships can help reduce the costs. On TikTok, @Scholarcash posts daily scholarships that you can apply to. He also has his own app available under the name Scholar Cash which serves the same purpose. Reminder: FAFSA opens on October 1st and allows students to request federal grants, receive loans, and pay less for college. Don't miss out on these opportunities!
#8: Keep Up your Grades
Contrary to popular belief, your grades during senior year still matter! Do your best to keep them up, and don't forget your teachers are human too. If you are overwhelmed or going through something reach out to them! Nine out of ten times they will understand and help you out the best they can.
#9: Take a Deep Breath
Applying to college is stressful; once you've hit the "submit" button on all of your applications take a deep breath and congratulate yourself! You deserve it. Friendly Reminder: You'll end up where you're supposed to be.
More Resources:
https://santiago.cnusd.k12.ca.us/UserFiles/Servers/Server_229946/File/Counseling/Requesting%20A%20Letter%20of%20Recommendation/Letter%20of%20Rec%20Request%20Fillable%20Form.pdf
http://apply.admissions.uci.edu/register/?id=ac03dfac-7c45-428b-9cae-0ee34f8480cb
https://sites.google.com/CNUSD.k12.ca.us/shsavid12/home
About the Writer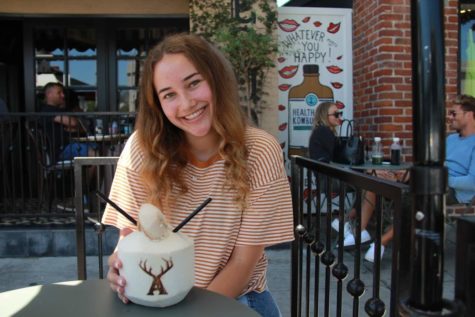 Alexis Witkowski, Op/Ed Editor
Alexis Witkowski (12) or Lexy as she prefers to be called, is the 2020-2021 Op/Ed editor. This is her second year as a part of the school newspaper. After...