Mind Clothing
"Illustrated, cut, and pressed by hand"
Mind Clothing is a local, small clothing business run by Nik Ambriz ('22), a senior here at Santiago. He began brainstorming ideas for this clothing line as a freshman in high school and finally established it in 2019. His clothing line was created with the intention of catering to larger groups of people rather than solely individual groups. Nik just recently started promoting his brand more across social media, his main source being his Instagram (@_______mind_______) and his secondary being on Tiktok (@shopmind), in hopes of obtaining more of a following. I had the privilege to sit with him and discuss his small business and its beginnings, so here it is.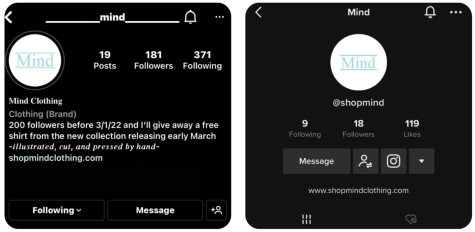 Interviewer: "When did you know that you wanted to start a clothing brand and what, or who inspired you?"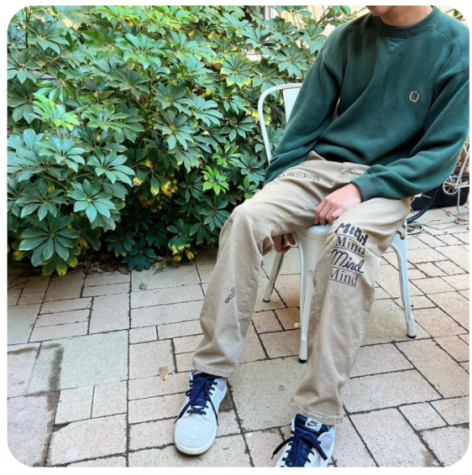 Nik: "I always knew that I wanted to start a clothing brand, but it wasn't until my freshman year that I actually started thinking about making it happen. I noticed that everyone has their own style of clothing and that- I don't know, I just think of it as art. I just started taking more interest in clothing and seeing the different ways that people would style themselves and wanted to be able to be a part of it. I mean, I started becoming very interested in shoes in the 7th grade, and as I got older, I realized that there was a whole culture behind streetwear, like it was more than just shoes. Someone who really inspired me was Virgil Abloh (Owner of Off-White), along with other streetwear brands, like Supreme, Stussy, and… yeah pretty much- brands like that."
Interviewer: "What made you choose the name "Mind" for your clothing?"
Nik: "That's a really good question actually, you know, it was just kinda on my mind (no pun intended). Before it was named "Mind", my clothing brand was named "Surrealism", but I wanted to add a little more to the name because I consider clothing to be a form of art, leading to the name "Surrealism Arts". At the time, I was kinda depressed, so I wanted my brand to reflect that edginess and the emotions that I was feeling so that other people who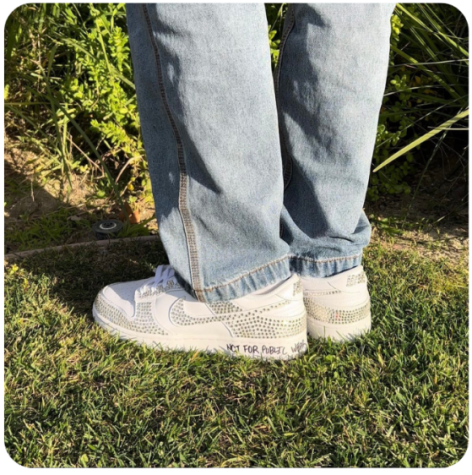 felt the same would have some sort of connection to it, you know? But then I realized that the name was extremely corny and decided to get rid of it completely. I also realized that not everyone is sad all the time, and I wanted to make something that everyone could be a part of- like not just dedicated to one group of people, which I feel like a lot of brands do these days. I was like, how can I incorporate everything that I love into one thing? All of these thoughts about making this clothing brand incorporate everything that I love and everything that other people love was running through my mind, which kinda brought me to name it "Mind". The name itself is a good parallel to myself because I love doing so many things, like surfing, going to the skatepark, and riding motorcycles. I'm kinda aiming towards making my clothes cater towards all of those things, and I know that I'm just getting started, but I want it to be that eventually- it just takes time to get the product that I want out for all of these different groups of people to come together and love."
Interviewer: "So how exactly do you make your clothing?"
Nik: "I first design what I want to put on the shirt, like something will come into my head, whether I'm in class, at home, or wherever, and I'm like "Oh, maybe this will work",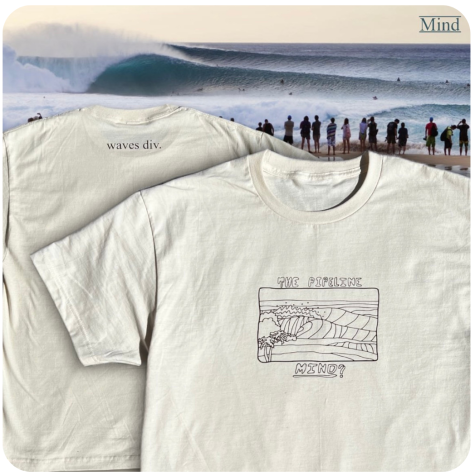 and I do a rough sketch of it or type it up in my notes. Then after that, I take my design and convert it into a digital image, where I resize everything to the correct proportions and make sure it won't look goofy when on the shirt. After getting the vinyl properly cut, I peel off the excess vinyl that won't be used, iron the shirt to make sure it's flat to ensure the best quality possible, and put the design onto the shirt- I use a heat press and make sure that the vinyl is on the shirt well so that it'll last longer and my customers will get their money's worth. Then I just package it up, throw in stickers, and that's pretty much it."
Interviewer: "Do you have anything that you would like to say to other people who are trying to start a clothing line or a small business?"
Nik: "I think that our generation can sometimes have a big issue with dreaming of the things that they want to do and thinking, "Oh, if I do this I'm never going to do it good enough" or "I won't be able to do this", but like- you don't really know the outcome of something if you don't just seize the moment. Pursue your dreams. I mean, this is my passion, and if you really like something, then you'll work for it."
Interviewer: "Finally, what are your favorite clothing pieces that you have made?"
Nik: "Well, my favorite one that I have made for myself is the Coaches Jacket that I made, which is a 1/1 piece, but in general, I feel like my favorite is the Arch Sun Logo Tee."

If you ever have the time, I would highly suggest checking out any of Nik's social media platforms and checking out his clothing brand on shopmindclothing.com. There is a new collection being released in March, and I can not wait to see what he has in store for us and how much his clothing brand grows. Shop small and shop Mind.