A speech and Debate Interview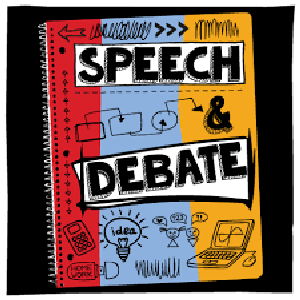 With so many clubs in Santiago, it's not unreasonable to imagine that some people get lost in the crowd. Speech and discussion, in particular, seem to have received little attention. Speech and debate is a group that allows students to improve their research, critical thinking, organization, persuasive, and communication abilities. To discuss both sides of an issue properly, students must set aside personal bias and prior knowledge. As someone who has participated in speech and debate whenever I have had the opportunity, I can certainly state that this club assists with far more than it admits. It encourages children to compete against other students on big issues with topics like impromtu , where they must build a whole speech in three minutes from a single word or phrase. It teaches you how to think quickly on your feet and solve problems quickly and efficiently. Because of the team's recent victories, I thought it was only reasonable to take a look at this team. 
I asked a few girls a set of three questions –
What is your experience with Speech and Debate (years of competing, major awards, etc.)? 

How do you prepare and practice for the competition?

What do you do when you know nothing about your topic?  And anything else to add?
 Jenny Zheng
1. I had fun competing at tournaments throughout the season. At the final league tournament, my partner and I made it to the top 8 which was pretty rewarding considering it was our first year in debate. But the best part was definitely the different people you get to meet and debate with. In fact, I think our opponents were a huge factor in our growth.

2. To prepare me and my partner will work together to form contentions or main points that we would argue for in around. Research is definitely important, so we will try to get as many sources as possible to support our cases. Sometimes we would have practice rounds within our team just to test out certain arguments and points.

3. For the Public forum debate, we get about a month to prepare before each tournament. So the best thing to do is to do as much research as you can. However, for categories like impromptu where you get 2 minutes, it's important to try and connect that topic to something in your own life or something else you know more about.
Audrey Wang
1. I've competed in the public forum debate category since my freshman year, so for three years now, with my partner Janita. We started out a bit rough, but this year we had our most successful season, with our team qualifying for State back in February and a 1st place title at the Dina Stallings tournament in April.
2. I would say the biggest amount of time is spent on researching the topic and finding evidence to back up your argument during debates. Besides that, we also do a lot of skill-building during practices with Coach Graves and the other public forum teams.
3. If you don't originally know anything about your topic, you just have to take time to research and learn about it, and you have to keep in mind not to be intimidated by scary-sounding resolutions. Honestly, one of the pluses of competing in the debate is that you learn all about topics that you would never have known about otherwise. Debate is pretty much the only place where you'll find a bunch of high school students who could tell you all about Venezuelan sanctions or Article 9 of the Japanese constitution.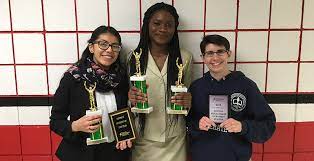 Janita Ikram
1. From my three years in speech and debate I've learned numerous skills. Competing in public forum debates has allowed me to become more open and outgoing toward others. It's also pushed me to be more firm in my ideals as a person. Competing gives me insight into how different people look at situations from a different perspective than me. Audrey and I have had the amazing experience of winning a couple of tournaments and even going to state championships. These experiences have been amazing and we're grateful for the opportunities presented to us because of our super awesome coach and team!
2. Audrey and I prepare for competitions both during after-school practice and at home on our own. During practice, we engage with the entire public forum team and share ideas and strategies with one another. On our own, we research and become as knowledgeable on the topic as possible. preparing beforehand as much as we can have been our biggest advantage this year.
3. There are times in which we are presented with an argument that we're not sure how to argue against. In that scenario, all we can do is use our quick-thinking skills to refute it as best we can. preparing beforehand prevents this from happening. but being able to think on the spot can be handy in unpredictable situations. Nothing else to add except the speech and debate team is awesome and definitely a life-changing experience
With this interview, I hope that kids will have a new perspective on speech and debate, and perhaps even decide to participate! This is one of Santiago's most prominent clubs, and it's past time for them to be recognized for the hard work and dedication that goes into winning all of those competitions!