Get it Girl!
Santiago high school has recently reestablished a feminist club by the name of Girl Up in 2020-2021, and it is swiftly rising in popularity. Three young students who renewed this club were Shree, Lia, and Natasha.
What is Girl Up?
Girl Up is a movement for women's empowerment and gender equality, it's a campaign of the United Nations Foundation which gives women the opportunity to become leaders, raise awareness of women's rights, and reach girls and women who experience systematic discrimination in society daily.
Its mission is to promote equality by securing more opportunities for women and giving girls the encouragement and resources to create a movement for social change whatever public or private sphere they may be in. This idea is carried out within Girl Up's very own mission statement:
Girl Up is an innovative campaign of the United Nations Foundation. We give American girls the opportunity to become global leaders and channel their energy and compassion to raise awareness and funds for United Nations programs that help some of the world's hardest-to-reach adolescent girls.
The Girl Up movement was initially started by Anna Blue and Melissa Kilby in 2010 but dramatically grew globally due to the co-executives of the campaign, as well as the overall importance of the mission and idea to other women all around the world.
Anna Blue states, "They have the opportunity to recognize their power now. You can look at what's happening in the world, the issues they care about, for our girls it's gender equality for sure, and you can feel powerless and hopeless to do anything about that. But to join an organization where you can turn that hopelessness into real power through actions is a tremendous gift to give a young person. The more we see the rise of the youth movement in so many different ways, we're seeing that play out the incredible transformation that can happen when a young person recognizes the power they hold to create change."
Since Girl Up's launch in 2010, they've taught girls how to be leaders and have raised 5.6 million dollars for United Nations programs that help adolescent girls go to school, see doctors, and provide them a safe space from violence.
Being a worldwide yet empowering campaign, it inspired individuals from Santiago to bring this club to spread awareness, support the prospects, and fundraise for the campaign. Santiago's Girl Up club has been led by a multitude of wonderful, young students, and will continue by the inspiration of their past peers. There was a sudden spark in members of the club this year, it was a great accomplishment for them to see their members grow and fill the room.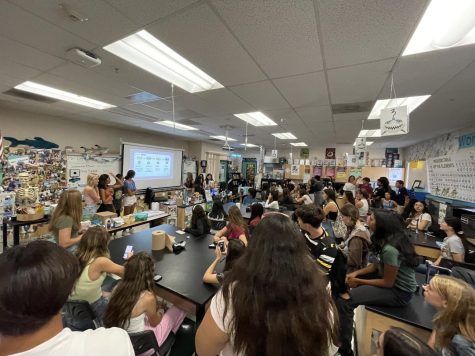 The 2022-2023 Santiago Girl Up team proudly consists of 9 passionately driven officers. The Co-Presidents are Priscilla Sierra (12) and Lizbeth Pineda (12).
"I love Girl Up because it is an international organization that has a variety of clubs and coalitions that focus on uplifting women as well as clearing up any misconceptions about feminism." – Priscilla Sierra (12)
"In Santiago Girl Up our goals are to empower women in our communities, raise awareness about gender equality, and bring social change." – Lizbeth Pineda (12) Officials by the names of Natasha Dhamsania (11) and Lorelai Tang (11) also discuss the importance of Girl Up to them as well.
"I reactivated Girl Up because it is an amazing club that focuses on gender equality and raises awareness about it. I believe gender equality still has issues today and if I can help other girls and educate others about it, I would love to!"  -Natasha Dhamsania (11)
"Girl Up addresses important issues that are prevalent in the lives of women and girls everywhere. I started our Girl Up chapter as a co-president last year because it was a great opportunity to bring a much-needed community to our campus." – Lorelai Tang (11)
The Vice President, who happens to be a male student, states, "In Girl Up, there is advocating, spreading awareness, fundraising, and overall empowerment for girls. As a guy, I was compelled to join because I feel I could truly make a difference and play a key role in inspiring not just girls to join, but individuals of other genders as well."
Their secretary, Vivianna Tang (10) highlights her hopes to empower women through her position in this club. "I joined this club to empower women in our community and encourage gender equality and social change." -Vivianna Tang (10).
Girl Up's public relations, Juliette Damian (10), spreads her beliefs about the significance of this club while sharing her prospects with the use of her platform."This club is important to me because I am a woman and I want to support other women who have fewer opportunities and spread awareness of those individuals to others. Girl Up is essentially a pro-human organization, that focuses on unity, equality, and change, and that is why I widely support and encourage this club to others."
Rhea Dhama (10), the Treasurer of Girl Up and a proud advocate of women's rights and feminism shares "Girl Up is a club that allows women in high school to feel connected with themselves and can connect with the cane able to fight for what they believe in, feminism, with the support of others.
Santiago's Girl Up's leadership association, Larkin Flemming (10), contributes to the cause of this club with great passion by stating, "This club supports women of all different backgrounds, careers, and ages. It encourages a sense of community amongst women and rises sexist issues to awareness to make this world a better, more equal place." – Larkin Flemming (10)
The Santiago Girl Up president (Priscilla Sierra), speaks on plans, "In our chapter, we hope to bring in guest speakers, make posters, and make the girls and women on our campus comfortable; for example, by hosting menstrual product drives. I hope that people not only join our club to learn about what feminism is but also learn about the disparities that women around the world face and the different inspirational women that have helped our society. We will ultimately focus on uplifting women as well as clearing up any misconceptions about feminism. I have realized the perceptions of feminism are typically negative and are never true to the actual meaning."
What is feminism? What are its common misconceptions?
Feminism is essentially the advocacy of women based on the equality of the sexes. It is about women having equal opportunities and rights but the misconceptions suggest that feminism is against men, the hatred of men, and wanting to rise above men rather than be equal to them. This myth completely defies the basis of feminism, and Girl Up does not agree with this perception.
That being said, why should more students of Santiago join this club?
"Regardless of gender, all students of Santiago are welcome to join Girl Up! We have plenty of members; boys, girls, etc., that enjoy our activities and meetings! Students are highly encouraged to join if they are looking for a fun, comfortable space to make friends, learn about important social events, news, and topics, develop their leadership skills, and help our local community." -Lorelai Tang (11).
"People who join will be able to learn the real definition and meaning of feminism, not the one created by society."- Rhea Dhama (10).
"It is important to join and be a part of the change because as we see in the news, rules on women are being changed to this day. I joined Girl Up because it is super fun to be part of any club, especially one you love to take part in." -Lizbeth Pineda (12)
"More students of Santiago, especially those who are passionate about this cause and love to empower and encourage other women to become the best versions of themselves should join because it is a great club to spread awareness on ongoing, worldwide problems. With more people, we can reach those who aren't as involved with this topic or individuals who oppose it due to misconceptions and spread the true meaning of feminism." – Juliette Damian (10).
(Girl Up officers at Club Rush.)
Girl Up is an empowering club in Santiago that raises awareness of persistent issues in society. The team consists of wonderful, passionate leaders that would love to welcome, and educate more of their community on this largely impactful topic.