Meet Santiago's New SRO!
At the start of Santiago's 2022-2023 school year, our new SRO officer, Elena Jones, was introduced. The job of an SRO stands for a school resource officer that helps regulate and report school conflicts and incidents. Extensive training is given to high school SROs so they are enabled to give classroom and assembly lectures. Some of the topics they speak on include alcohol and drug education, responsibilities, personal safety, and graffiti. Officer Jones will definitely do a fantastic job as Santiago High School's new SRO.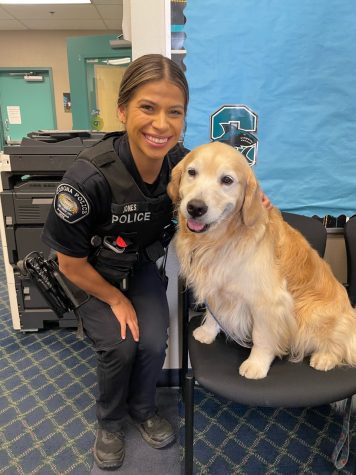 What drove you to want to become an officer?
"My dad was my biggest inspiration. When he was growing up he got into a lot of trouble as a kid, like getting sent to jail multiple times, being on probation, and even being sent to juvenile hall. There was a Riverside deputy who took him under his wing and continuously counseled him and mentored him and drove him on the right path. So, if it wasn't for that deputy, my dad wouldn't be the person he was and he could've gone down a different path and continued doing crimes. So, that's what drove me so I could help that one person go down the right path."
What are a few facts about you?
"I was born and raised in Corona, California, and even graduated from Corona High School. I attend Cal State Fullerton. In my off time, I like to go surfing and hiking. My favorite hike is this hike in Glendora called the Poop-Out Trail, which is a very challenging hike but it was my favorite."
What do you most want to accomplish at Santiago?
"The thing I want to accomplish most at Santiago is being a good mentor and role model to the students here and trying to help anyone who would like to be a police officer and trying to find different ways to prepare."
What have been your favorite things about this school?
"One of my favorite things about this school is Daisy, the dog. I've always loved dogs and animals. I also love the kids here. The kids have a lot of school spirit here and show their love for the school. I've seen a lot of kids demonstrate the actual shark values. So the way that it's implemented here is pretty cool. There have been multiple kids here who have found someone else's property and brought it to the office. So that's another one of my favorite things about this school, which is the students and their morals."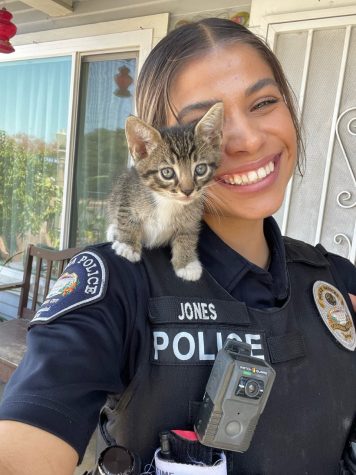 What are a few challenges you face?
"One of the challenges I face is my size. So, I'm a police officer and I'm 5'1 and 125 pounds. So, a lot of people think that because of my size, they can intimidate me. However, ways I overcome it is by training and doing Brazilian jujitsu. So, anytime I have to use force on someone to take them into arrest, I can do it safely for the person and myself. This could also help the partners in my field, as well. Just because I'm small doesn't mean I'm unreliable."
When you were younger, did you always aspire to be an officer?
"Yes, I wanted to become a police officer since I was 14 years old. I loved the TV show 'Criminal Minds' so I originally wanted to be an FBI agent. But once I looked more into it, I thought a police officer would be a better route because I wanted to be local and start a family and not travel too much. I joined the Corona Police Explorers at 15 and that's how I knew I wanted to become a police officer."
Our school wishes Officer Jones the best of luck and hopes she enjoys her time serving here at Santiago High School.