Is the Relationship Between Billie Eilish and Jesse Rutherford Problematic?
Billie Eilish (20) and Jesse Rutherford (31) have come under the public's spotlight for their controversial partnership. Eilish's past idolization of the Neighbourhood's lead vocalist is seen as inappropriate since they are now a couple, and because of their over ten-year age difference. Imagine if the person you idolized as a teenager ended up being the person you dated in the future…weird. 
On Halloween 2022, the couple dressed in costumes depicting an old man and a baby to poke fun at their large age gap. This took the internet by storm, with one Twitter user saying,  "I cannot believe instead of Jesse Rutherford dating a 20 yr old and just SHUTTING UP him and Billie dressed as a baby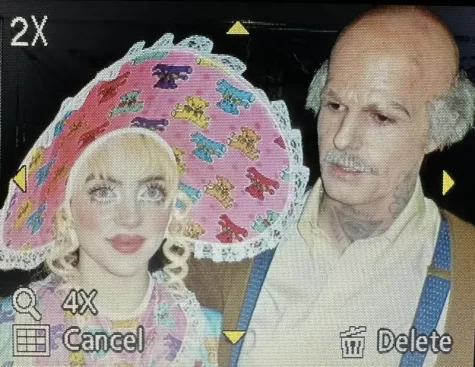 and old man……I am at a loss." Thousands more took to the comment section of Billie Eilish's Instagram to share their thoughts. The couple said they thought the costumes were "hilarious" and "perfect".
Shortly after the backlash grew they made their red carpet debut as an official partnership, and many have spotted and photographed them while in public holding hands and kissing. The couple have reported to not mind the backlash and said they aren't letting it get to them. Jesse is highly approved of by Billie's family and her brother Finneas O'Connell, who is known as "FINNEAS" in the music world. Rutherford is said to be a "total gentleman" to Eilish.
An argument that could be made to approve of the relationship is the fact women mature much sooner than men. Billie is only 20 but much more mentally developed than a man of that age. Someone in their 30s has more experience and maturity than someone younger, which could've drawn Eilish to Rutherford. Finneas O'Connell even stated he is happy to see Billie with a "man who is on her same level".
In her annual Vanity Fair interview on November 28, Billie clarifies that she is "in control", for those who worry she is being taken advantage of. She humorously talks about how lucky she is to be with him and how she "pulled him" which was basically a dream come true for the past fan.
Eilish is an adult and is entitled to make her own decisions, but the issue for some doesn't lie in their ages themselves. It lies within the fact they've been in each other's lives since Eilish was about fifteen years old, around the time when she rose to fame with her single "Ocean Eyes". She was still a very impressionable and naive teenager, and being infatuated with a celebrity is typically a factor in most teenage girls' existence.
The relationship between Billie Eilish and Jesse Rutherford is not illegal, but it's surely interesting to see Billie living out her fangirl fantasies in real life. Ultimately, it is nobody's business but theirs. If they continue to thrive as a relationship, it has nothing to do with anybody else. Fans need to be aware of the fact celebrities have their own lives, and be able to respect the decisions they decide to make.