Andrew Callaghan: America's Modern Journalist
It's December 30th, right before New Year's Eve… While many people are getting together to celebrate the arrival of 2023, many others were preparing for a long-awaited politically controversial documentary to be released. Andrew Callaghan, a 25-year-old Journalist directed and starred in his premiere documentary, This Place Rules. Andrew has been recognized by the national news media and has gained a combined 226 million views on YouTube thanks to his unique style of Gonzo Journalism; but, he wasn't an overnight sensation. His works can be dated back to years before the release of his documentary. 
Andrew Callaghan grew up in Seattle, WA. During high school, he wrote for the school newspaper. His journalism teacher was very supportive as he let Andrew leave class to cover events, including Occupy Seattle. "He would let me write about weird sh*t like the Darknet and Silk Road. Shout out to him!", said Andrew at a Q&A panel during, Channel 5 Live, Los Angeles. Callaghan continued on to attend Loyola University in New Orleans, LA to study Journalism. At 19, after his freshman year of college, Andrew hitchhiked across America and wrote his book, All Gas, No Brakes: a Hitchhikers Diary. "I spent that entire summer, with, like a recorder at different bus stations and motels, just like talking to people, on the fringe of society, like real, road people," Callaghan explained in his interview with Vice. The book was filled with stories about people Andrew met during that summer, and showcased the lifestyles of real people on the road.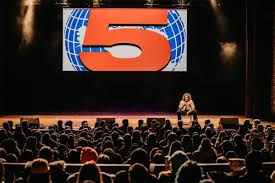 Around the same time, he created his first online series called Quarter Confessions. He used a comedic style of interviewing by putting the microphone and camera in the faces of drunk partygoers in New Orleans. After realizing he wanted to combine comedy and the philosophy of people on the road, he soon pitched the idea of continuing his "Man on the Street" interviews and turned them into a show for Doing Things Media, a memes and social media company.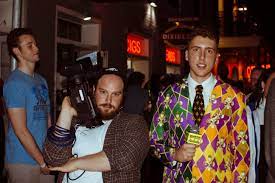 All Gas No Brakes started in 2019, with its first episode being about Burning Man. Andrew admitted that these first episodes were initially made to make fun of the people in the videos and to mainly be a comedic show. On their seventh episode, they went to a Flat Earth Conference which took an unexpected turn. He told Vice, "We kind of just exposed them… Four minutes into every interview, they give you this look where they're like, all right I'm going to name-drop the Jews. And before you know it, they're, like…totally saying crazy… about Hitler." One person in the video claimed Hitler discovered the Flat Earth Theory and had Nazis create a city under the ice in Antarctica during the early 40s. Another warned not to use certain search engines, since Jewish people control them, and are controlling all over the world. "We weren't going in, being like, were going to make them look anti-Semitic" "I don't why they say crazy sh*t. I don't say anything. I just stand there with the microphone, I'll look at the camera and they keep going and going." As Andrew said, standing there with the microphone soon began to be the way he would go about the rest of his projects. This became his unique style of gonzo journalism that allowed people to digest everything they heard and saw independently.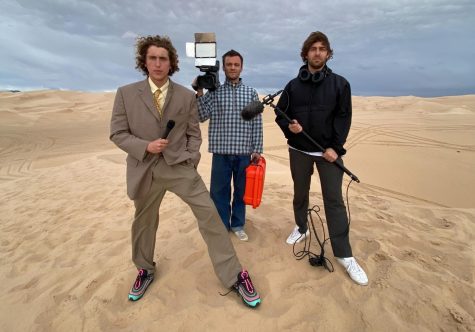 In June 2020, Andrew used his platform to show a large audience a scene more serious. His twelfth episode took place during a Minneapolis protest, which was the result of George Floyd's murder. "It was the first political issue I've covered in my life," he told Esquire. "Media is not talking to the people, causing destruction in Minneapolis, and figuring out why", so he did that himself. He went into the streets where the protest took place while other, larger news outlets watched from a distance, where they would later tell their audience, an already digested interpretation of what happened. Andrew allowed the people on the street to say what they wanted and how they felt. An interviewee said "F*ck those other media outlets because they're gonna try to portray us in a bad light by only showing what's going on over there", as he pointed to a looted store. Andrew then walked around with his cameraman Nic in a looted store. The camera follows Andrew around the store as he says nothing. Nic would show the audience the scene of objects in flames and a destroyed candy machine, as someone holds an "Everything Must Go!" sign. Andrew is standing next to a man with his microphone in front of a burning building. Andrew says nothing and lets the man talk. He said "This is how everyone is actually feeling… Everyone feels like that", referencing the burning K-mart behind the two. The episode was well-received by fans, and he continued to upload a couple of more serious content, including the protests in Portland.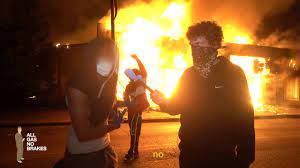 His career with All Gas No Brakes and Doing This Media came to a halt around November of the same year. While still creating content for All Gas No Brakes, Andrew began to start filming his movie, This Place Rules. He didn't have enough time in his schedule to film the movie, create content for the YouTube channel, and create content for his Patreon. Doing Things Media was upset at the lack of content being created by Andrew and his team, due to their workload being too heavy and their shift into filming the movie full-time. Andrew attempted to compromise with the company by asking for a raise in his cut of the revenue the show made. At that time, Andrew only took home 20 percent of the profit. The company declined his offer, leading Andrew to stop creating content in February 2021, which led to his two best friends getting fired from the show. Andrew got a team of lawyers to help him out of the contract before he got fired as well. A few months later, Andrew independently created his own online show with his two best friends Nic and Evan called Channel 5 With Andrew Callaghan.
In April of 2021, Channel 5 put up its first video on the channel and hasn't stopped posting since. While Andrew kept some comedic elements in his new videos, he now had the freedom to add serious dialogue that was informative. In an interview with Anthony Fantano, Andrew explained, "I think [about] actually just getting older…And I wanted to create something new that can be more respected, and people won't think of us as..Just meme guys". With the slow backslide of crash zooms and people yelling into the microphone, like in his previous shows, Andrew emphasized his almost silent form of interviewing. In almost every approach he has with someone on camera, all he would say is "What's on your mind?".  An element of gonzo journalism that Andrew does is immersing yourself into a scene, instead of reporting from a distance. Andrew has a signature look when he is filming something not so serious. He will be seen wearing an oversized beige suit with a yellow shirt underneath, and a tie, followed by a pair of dad sneakers. Andrew would even go to a longer extent, and try to mirror the people he is interviewing. In a clip from 2020, Andrew attempted to dress how people in the subculture would dress, in an attempt to blend in with the crowd. During a MAGA rally, Andrew changed out the mask he would normally wear in videos, to an American flag gator mask. Something about changing his look to come off more patriotic like the others he was surrounded by was a smart tactic he used to get people talking to him.  
On December 30th, Andrew released his documentary This Place Rules with A24 on HBO Max.  This Place Rules was directed by Andrew, as he captured moments before the January six Capitol attack. Andrew followed far right-wing thinkers and attended MAGA marches that took place before, during, and after the 2020 election. His capability to teach us the effects of misinformation, resentment, and the 24-hour news cycle. In an interview with Andrew on CNN, he said, "Fox and even CNN like compete for views by running constant 24-hour news cycles based upon fear, division, and outrage to sell ads." An eye-opening moment in the documentary was when Andrew went to visit the "Q Family". The Spencer family, who were deep into the right-extremist conspiracy theory called QAnon. As he was with the family, trying to understand the mind of a family who went down into the rabbit hole of QAnon, he briefly went a couple of blocks away to show us a way more different way of life. He went to ask the people living in zone 6 Bouldercrest Atlanta how they felt, after the death of Rayshard Brooks. Rayshards friends his age explained the multiple thoughts going through their heads. Resentment grew towards the police, as worry also grew within them. "He came to just get food for his family from Wendy's", said one of his neighbors. "It wasn't black people that burned this Wendy's down. It was actually a Caucasian female." "We gotta show the kids this ain't right". The men young men living in Bouldercrest recognize how they have to change in order to keep themselves, and their younger kids safe.  Seeing the vast difference between the families in Bouldercrest and the Q family, with them only living a couple of blocks away made viewers realize the effects that different large news outlets have, on influencing their agenda on people who decide to listen to those outlets. "It really made me think about, like how much free time and financial stability it really takes to show face at the kind of angry pep rallies that I had been going to for the past couple of months prior to that."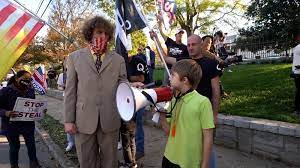 After the movie, Andrew got more national news coverage than ever before. He was recently interviewed by NPR's Alina Selyukh where he felt almost set up to validate NPR's liberal beliefs and opinions, even if they weren't Andrew's. After Andrew talked about following Alex Jones in the MAGA rallies, Alina asked Andrew, "The drinking with him while lifting weights…I'm serious, I mean you know this is one of the most despicable Americans in our history…How do you feel the Sandy Hook Parents would feel about drinking with him?" Andrew in disbelief said, "Are you serious?.. That was a really really negative question you just asked me…That was sort of, accusatory, and putting me in a bad vibe."Andrew has never been afraid to speak his mind and point out whatever he does not stand up for, even if that creates controversy around his name. That might one of the greatest things about Andrew Callaghan, This place Rules, and Channel Five. With Andrew's younger audience, it is almost assured his influence to digest raw news will be on the rise, as he continues to get the resources from his Patreon to create more content and bring back gonzo journalism and teach people to interpret news for themselves.
This story was written before the sexual misconduct allegations of Callaghan arose in the media, updates on recent allegations about Callaghan can be found here