On May 1, 2023, the WGA released a statement explaining how they'd spent weeks negotiating with studios and streamers and gotten no results. They announced they would be going on strike on May 2, 2023, at 12:01 a.m. after their current contract expired at midnight. The WGA had alluded to this strike since January 26, when they started to discuss their expectations for the new negotiation, then again in March when publishing an article on what the previous 2007-2008 negotiation/strike had accomplished. This came with a supportive statement from SAG-AFTRA, who later went on strike on July 14 due to contract negotiations.
The WGA and SAG-AFTRA are demanding better compensation and work conditions. More specifically, both unions are fighting for contract negotiations that will provide fair pay and what is considered a livable wage. On the SAG-AFTRA website, Why We Strike, there is greater detail on the general wage increase they have asked the AMPTP for. This includes an 11% wage increase to deal with inflation, which the AMPTP only agreed to give 5% in a year. This proposal is also mentioned in the AMPTP Press Release (page 1) made public by AMPTP days after the 100 days of strike negotiation. The WGA said they believed the companies were meeting to negotiate but were instead met with "…their counter's limitations and loopholes and omissions failed to sufficiently protect writers from the existential threats that caused us to strike in the first place."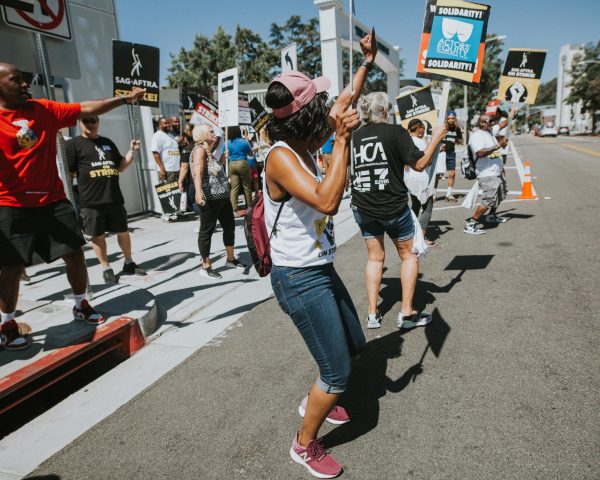 On both ends, there have been complications surrounding AI or GAI (generative artificial intelligence). SAG-AFTRA members want to protect their image by being informed and consenting when it will be used. There is also concern about fair compensation when using their likeness. According to SAG-AFTRA, the AMPTP wants to "…scan a background performer's image, pay them for half a day's labor… use an individual's likeness for any purpose forever without their consent." And in regards to principal actors, "We also want to be able to make changes to principal performers' dialogue, and even create new scenes, without informed consent."
The AMPTP accused SAG-AFTRA of mischaracterizing their AI proposal and released this statement. With the development of GAI, the WGA says these companies are "devaluing the profession of writing." This stems from refusals to guarantee weekly employment in television, paying day-rate wages for comedy-variety TV, and adding GAI as a way to "…undermine compensation and creative rights-." However, as of the 8-24-23 Negotiations update, the WGA says, "We have had real discussions and seen movement on their part regarding AI protections. But we are not yet where we need to be." The WGA is still attempting to regulate the use of their work to train AI to write new content. The negotiations for these situations are lightly covered in the AMPTP's Press Release on pages 2 and 3-4.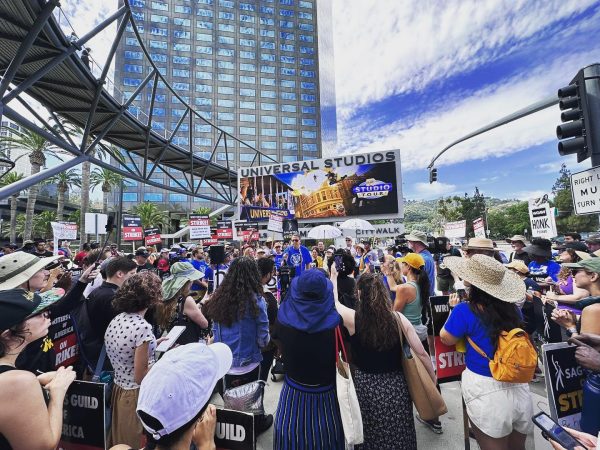 The WGA, along with support from SAG-AFTRA union members, began physical strikes on May 2, 2023, just as summer temperatures would start to take over. These picket lines have taken place in studio lots such as Amazon, Disney, Fox, Netflix, Paramount, Warner Bros., and other AMPTP members. Most importantly, in this case, the strike took place in the NBC Universal lot space. After three months of striking at this location and facing safety hazards due to construction that gradually deconstructed sideways, temporary sidewalks were finally installed on August 1. Despite that small victory, not a few weeks before, there had been an incident with Universal cutting back trees that shaded areas in Barham Boulevard where picketers would be located. This brought legal issues to the front concerning Tree Law, which involves restrictions when cutting or over-trimming. Universal was then charged with a fine of $250.
Currently, the WGA and SAG-AFTRA unions continue to negotiate with AMPTP to reach a contract that they consider fair, granting them sustainable wages, protection from job threats, and necessary regulations for AI and GAI.