FC Barcelona are utterly Abysmal
Atrocious, horrendous, awful, all words that can be used to describe the current FC Barcelona team. On February 16th, FC Barcelona turned in an absolutely disastrous performance against Paris-Saint Germain in yet another Champions League embarrassment, losing 4-1 to the French side at the Camp Nou in Spain. On Tuesday night, Barcelona suffered much of the same problems they've been suffering from throughout the whole season. In this article, I'll be taking a look at what went wrong, as well as the repercussions of Tuesday night's game.
Barcelona. Cannot. Defend. Not even if they tried. Tuesday night's defense starting lineup against a 21-year old Kylian Mbappe was Jordi Alba (31), Clement Lenglet (24), Gerard Pique (34 and it was his first game back from months of injury), and Sergino Dest (19 and also coming on after an injury). I'm going to start with Gerard Pique. Gerard Pique had not played a game in over 3 months. There was a rumor going around before the game that Pique was going to return against PSG, and since that rumor began, we were all hoping that Pique would not play against PSG and especially not start the game over Ronald Araujo or Oscar Mingueza or even Samuel Umtiti, who's been absolutely dreadful this season. Under no circumstances should Gerard Pique have played in this game. He was not ready to start in a game as important as a Champions League knockout game. And I would have to ask questions of Ronald Koeman (Barcelona's coach). Why did Gerard Pique have to play and start in this game? If he was already fit, then why didn't he play at the weekend against Deportivo Alaves in La Liga (the league we're probably not gonna win either considering we're 8 points behind league leaders Athletico Madrid)? Pique had not played in so long, so why did he get to start over youngsters like Ronald Araujo or Oscar Mingueza, players that had been playing on the regular in all the games before this? Credit to Pique, he was working hard to get back to playing again, but he was not ready and you could see it on the field, he just could not keep up with PSG's attackers, no one on our defense could. Not even Sergino Dest, our youngest and quickest defender, could keep up with Mbappe, and it wasn't his fault. Dest was also injured, and also had not played in many of the games leading up to the game against PSG, and yet, Dest started. it doesn't make any sense. Now I understand why Ronald Koeman would play Dest since our other right back (Sergi Roberto) is also injured, but Dest still should not have played, because you should never throw an injured player to try and cover one of the fastest players in the world in Kylian Mbappe, who banged in three goals on Tuesday night. I would also have to say the Clement Lenglet at the center of our defense, it doesn't work. He has been awful this season, every game he plays, his mistakes lead directly to goals, such as giving away penalties like the one against Sergio Ramos in El Clasico in 2020 or his calamitous man-marking during the last Champions League Group Stage match against Juventus. On Tuesday night, his mistake directly leads to PSG's third goal, in where Lenglet forgot to mark PSG's Moise Kean during a PSG free-kick. Lenglet, along with Jordi Alba, Pique, Busquets, Ter Stegen, Umtiti, and Messi is a part of the core of the team that lost 4-0 against Roma in 2018, lost 4-0 against Liverpool in 2019, and lost 8-2 against Bayern Munich in 2020 all in the Champions League. Every year, the fans beg for change and every year, Barcelona keeps trotting out the same, tired old group of players that got destroyed by Roma, Liverpool, and Bayern Munich. I do not understand how three different coaches can start the same exact players and expect to win. It's like watching the same movie and expecting a different ending. In my opinion, the only players that started against Liverpool that should still be at the club are Lionel Messi, Jordi Alba, and Marc Andre Ter Stegen. Busquets, Pique Lenglet, Umtiti, they all need to go. It is time for a complete reinvention of the team's defense, and hopefully, when the new board and president come in, major changes will come in as well.
In 2017, FC Barcelona performed a miracle at the Camp Nou, coming back after being 4-0 down in the first leg on the Champions League Round of 16 against PSG, no less, and Barcelona ended up winning the tie 6-5. Yeah, that's not happening this time around, not with this Barcelona offense, an offense that can beat a mediocre, Neymar-less PSG. The team from 2017 had leaders within the team, number one. Number two, they all had fans in the stadium to get them over the edge and number three, they also had more talented players in midfield like peak Sergio Busquets and Andres Iniesta and better plays on offense like Luis Suarez and Neymar Jr, as well as a much better coach in Luis Enrique. This year, this Barcelona has none of those things. Neymar and Suarez are gone, along with Luis Enrique and Andres Iniesta, and Sergio Busquets has declined so significantly over the years that he is not even close to being the same player. Lionel Messi also had more motivation back then, the motivation he seems to lack right now due to being forced to stay at the club against his will and trying to carry a team that isn't worth carrying farther than they could ever get without him. Messi also has worse options in offense and midfield to help him out nowadays. Antoine Griezmann has had a much better season than last season, but he is still not the player he was at Athletico Madrid and Ousmane Dembele has also been lackluster. Barcelona's offense is not clinical at all. Never does Barcelona seem threatening in front of goal, and their tactics for scoring consist of the same plays over and over, such as shorth passes through the middle of the 18-yard box while our players are being marked completely by the opposition's defense, or by sending crosses into the middle of the box, where no one would be there to receive the ball or win an aerial duel or a header. Unfortunately, these problems will persist unless something changes. Barcelona is all but out of the Champions League, they're 2-0 down going into the second leg of the Copa Del Rey semi-final against Sevilla, and they're still miles behind Athletico Madrid in the league. Barcelona already lost the Supercopa de Espana final against Athletic Club Bilbao, and they're on track to have yet another trophy-less season. With all of this happening, it is more and more likely that Lionel Messi will choose to leave the club in the summer, and no one can blame him. It is unclear what will happen after the season is over. The most likely scenario is the sacking of Ronald Koeman and the appointment of former Barcelona legend Xavi Hernandez to lead a Messi-less Barcelona for the first time ever since 2004. Only time will tell.
About the Writer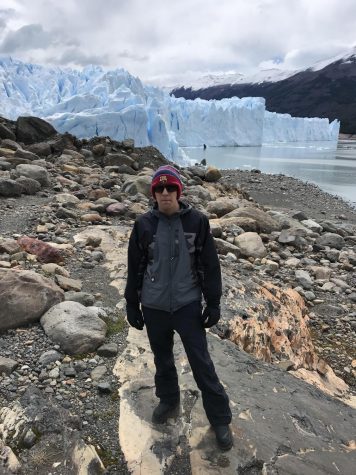 Lucas Pari, Sports Editor
Lucas Pari (12) is a current senior at Santiago High School and plans to attend a university and film school next fall. Lucas' interest in writing began...