Mass Shooting in Orange, California
On March 31st, 2021, four people were killed in a shooting that took place at the offices of Unified Homes, a real estate and mobile home dealer in Orange, California. The victims included a 9-year-old boy who was said to have died in the arms of a woman who was believed to be his mother as she tried to protect him. The woman protecting the boy was critically injured in the shooting.
Lt. Jennifer Amat, a spokeswoman for the Orange Police Department, stated at a news conference that the shooting likely stemmed from a "business and personal relationship which existed between the subject and all of the victims".
"This appears to be an isolated incident, and we believe everyone knew each other," Lieutenant Amat said.
The suspect, identified as Aminadab Gaxiola Gonzalez, was later found wounded, however, it is unknown as to whether these injuries were self-sustained or from officers. It is unclear as to exactly how Gonzalez acquired the weapon used in the shooting, however, a previous incident with the law in 2015 should have kept him from owning or purchasing a weapon, according to California law that prohibits people from purchasing weapons for 10 years after being convicted of a crime. Steve Lindley, a former California Department of Justice Bureau of Firearms chief who now works as a program manager at the Brady Campaign to Prevent Gun Violence stated that while it is rare for a background check to miss a prohibited person, or for a dealer to sell weaponry to a banned customer regardless, people still acquire guns illegally.
"Unfortunately, where you have strict gun laws, there will always be a market for illegal firearms," Lindley said. "Because people want to get them one way or another."
As of early April, the people who were killed have been identified as Luis Tovar, 50, the owner of Unified Homes; his daughter Jenevieve Raygoza, 28; her younger brother Matthew Farias, 9; and longtime sales executive Leticia Solis Guzman.  The woman protecting Matthew was identified as his mother, Blanca Tamayo, who was critically wounded, however, she is currently recovering in the hospital.
Gonzalez's estranged wife, Aleyda Mendoza, reached out to The Associated Press via text messages in response to the shooting. She wrote that she was not aware of Gonzalez's motives for the shooting, stating that they had been separated for two years and "he never told me anything about where he was staying or what he was doing."
"I can't understand what went through his head to make such a terrifying decision," Mendoza wrote. "He left behind a sea of pain and grief for so many families who can't find comfort."
Mendoza has also mentioned that the people at Unified Homes were always supportive of her and her children, stating that Unified Homes had been "my home for more than 10 years and they were my family". She also said that she and her children have received threatening calls since the shooting and now fear for their lives.
"My heart is crushed, I still can't accept that this happened," she wrote. "I keep closing my eyes and praying to God this is all just a bad dream and I'll wake up soon."
So far, court proceedings in regards to the shooting and Gonzalez have been delayed heavily as Gonzalez is still recovering from his injuries.
About the Writer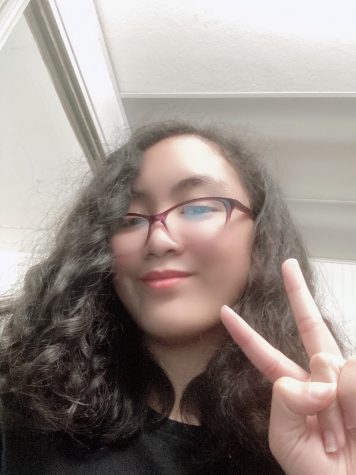 Rebekah Flores, Staff Writer
Rebekah Flores (11), a current junior at Santiago High School is focused on writing and participating in the school's band.  She joined Journalism as...