Asics Clovis Invitational
After the Santiago XC team made those impeccable remarks at BIG IIV it was time for Ricardo Ethridge to take some selective runners from the team up North to this meet. The Asics Clovis Invitational is the meet where these Santiago runners compete against other runners that are at their skill level if not even better. But this won't stop them from putting in their maximum effort in this race and leaving it on the course.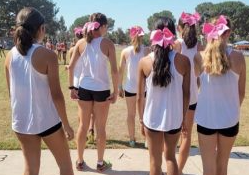 With the first race undergoing the Championship Girls- 5k, we had Santiago Girls Varsity come in 7th overall out of 18 high schools placed in this race. The phenomenal runner Rylee Blade(10) was able to lead the lady sharks and finish with a time of 17:50.7. This time is setting her as the number 1 fastest 5k time in this school's history. At the end of her race, she gave her thoughts and opinions about racing on this course, "Going into the race I didn't have many intentions because I knew that we were going up against a really challenging field of runners. But I just wanted to tuck in with the front pack and run with them. I had previously run this course for the state the year before and knew that I had to be patient while running and not overreach the first mile. I think we were all extremely happy with how the team performed overall and we got the outcome we wanted." Rylee Blade(10) visually had a plan on how she was going to run on this course and was able to set herself up for that good final placement.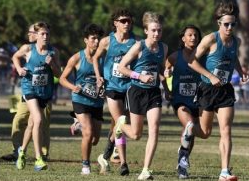 After the Championship Girls-5k, the Santiago Boys had the same race right after. They placed 10th out of 24 schools specifically in their race. Van Filek(12) was able to take care of business during the race, coming out as the top runner to represent the Santiago Boys Varsity team. Post-race Van Filek's(12) thoughts were, "It was awesome to be able to travel to Northern California and race some of the top schools in the country. We are finally at the level where we can have these opportunities and it makes the hard work so much more satisfying." Even though Van Filek(12) didn't PR he felt that he gave all he had and will definitely be prepared for his competition in the CIF Prelims come around.
Coming down to the last 4 races at the Clovis Invitational it's all 9th,10th,11th, and 12th-grade runners representing the Santiago XC squad. In the FS girl's race, Lauren Reightly(9) came out hard and left it all on the course. She placed 12th out of 165 runners, having a time of 21:11.5. This part of the team was able to position themselves 6th out of 21 schools. Then, the JV girls' race was after that they, fortunately, did not place but Taylor Aguinaldo(12) was able to mark a significant time of 22:12.0 for 3 miles.
 JV boys came out hard, ranking 9th out of 25 schools. The final placements in this race were: Kyle Sheehan(12), Ryan Chavez(12), Dillion Hansen(12), Enrique Tapia(11), Lennon Copas(9), and Robert Blinco (9). Shoutout to these boys for putting in the full-force effort to run on this competitive course. The last race was the FS boys, they placed 6th overall out of 24 schools. Huge shoutout to Brandon Fonseca(10), dialing down a time of 17:46.9 and leading the shark's squad in this race. Once the race was done he gave his opinion about only being a sophomore and the progress he is making. "It was an amazing feeling being able to lead my team. Running the state course as just a sophomore gives the whole team a great opportunity to start visualizing and mentally preparing ourselves. We have one of the best sophomore teams in school history.  If we continue to stay healthy and keep up the hard work, we can definitely have a shot for that state title!". Again this really goes to show that the coaching/staff is helping the runners improve their personal records undergoing all these races.
Closing out this meet, Coach E. set down a solidified statement about the team's overall performance from today. " We can improve on our pack running and always be better at finishing strong!  Overall we competed very well and beat a lot of good teams and there is still room for improvement.  I feel good about the position we are in and we will be ready to run in the post-season!" 
Now it's time for this team to head back down to the Inland Empire area. Where they will all compete at the Inland Empire Challenge meet.