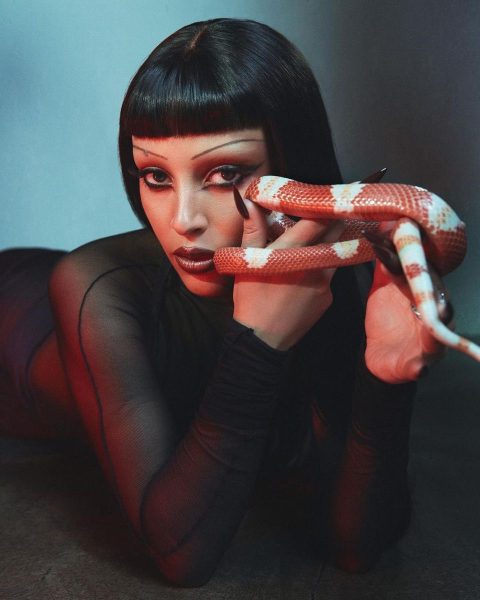 The 27-year-old rapper Doja Cat is becoming increasingly controversial in the music industry. From various Instagram comments bashing her fans to dating a man known to have assaulted multiple women, Doja has rapidly been under scrutiny for the past few months. 
Amala Ratna Zandile Dlamini, famously known as Doja Cat, has a Spotify following of over 58 million and an Instagram following amassing over 24 million. Growing up, Doja was passionate about singing, dancing, and performing. Doja, her mother, and her brother practiced Hinduism and lived in the Psy Anandam Ashram commune. While living there, Doja discovered her love for singing since it was a leading practice in the commune. Doja's love for performing stayed with her even after her family moved out. After moving out of the commune, Doja became passionate about dance and didn't focus much on school. At age 16, Doja dropped out of High School and started creating beats on GarageBand and uploading her songs on SoundCloud. Unfortunately, when she wasn't making music, Doja would spend most of her time on the internet on MySpace or chat rooms. 
After the releases of her albums" Amala," "Hot Pink," and "Planet Her," fans started to enjoy her presence online since she was on it most of the time. But for the past few months, she's been trashing her music and the people who listen to it on Twitter, stating, "Planet Her and Hot Pink were cash-grabs, and y'all fell for it; now I can go disappear somewhere and touch grass with my loved ones on an island while y'all weep for mediocre pop." This struck fans as disrespectful since many of them have listened to her music since her SoundCloud days, her debut album "Amala" in 2018, and even her debut EP "Purr" in 2014. After she tweeted judging her fans for listening to her "mediocre pop," she quickly started to lose followers. 
In July this year, Doja posted a series of Threads publicly insulting her fans. She posted, "My fans don't name themselves ****. If you call yourself a "kitten" or ******* "kittens" that means you need to get off your phone and get a job and help your parents with the house." Ironically, the nicknames "kitten" and "kittenz" are something Doja came up with for a fanbase name since she's named Doja Cat. After many fans with different variants of "kitten" or "kittens" saw her posts mocking the nickname, they commented on what they should change their username. One fan commented, "What should I change my name to since you don't like the term kitten." Doja said, "Just delete the entire account and rethink everything. It's never too late." Doja also insulted fan accounts with her real name, Amala, in their usernames, saying, "You making my government name ur sn is creepy as ****." Doja also said, "My life, rules, style, and attitude." A fan commented, "I wanna hear you say (I do love you guys). As usual, you say to your fans." Doja then commented, "I don't, though, cuz I don't even know y'all." 
After fans saw what Doja posted, many started to reply. One fan commented, "And we don't know you. But we have supported you through thick and thin. Mind you, you'd be NOTHING without us. You'd be working at a grocery store making songs on ******* garage band miss high school dropout…" Doja responded to the fan, stating, "Nobody forced you. I know why you're talking to me like my mother. ***** You sound like a crazy person." Many fan accounts started deactivating and deleting after Doja posted these comments, leading to many fans unfollowing her. An estimated 200k fans unfollowed her following the many hurtful comments bashing her fans. However, following the Thread comments, more fans started to unfollow her after Twitter and Reddit users began to resurface problematic behaviors from Doja's online presence. One thing that resurfaced was a leaked song Doja made in May of 2020 titled "Dindu Nuffin." many people started to call Doja out because the title of the music and its repeated usage in the song is a racist phrase about black people being victims of police brutality. It was speculated that the song referenced the Sandra Bland case. Sandra Bland was a black woman arrested in a traffic stop in 2015. Sandra was found dead in her cell three days later; police claimed the cause of death was suicide, but many, including Sandra's family, called it suspicious for many reasons. Doja's use of the phrase and reference to the Sandra Bland case upset many people. 
Another thing that resurfaced was a picture of Doja in a chat room with members of the Alt-Right or Incel Community. She was interacting with the men in the chat rooms and saying things that fans deemed inappropriate, mainly because of the alleged background of the members. Doja addressed these controversies in an Instagram post, saying that she had unrestricted internet access at too young, and that's why she spent a lot of time in chat rooms. However, she claims she never partook in any racist conversations with members. She also addressed the controversial leaked song by explaining that it wasn't tied to anything other than her personal experiences. She stated that she had been called the phrase several times and tried to flip its meaning in a reclaimed way and apologized if anyone was offended by the song.
After more things were brought up after the Threads incident, such as Doja mocking Amber Heard and the feud between her and Stranger Things star Noah Schnapp, scandals were revealed about Doja's boyfriend. Former Viner and streamer J Cyrus and Doja's relationship was confirmed in late 2022 but came to light after Doja's comments on Threads. J Cyrus has his old controversies, such as alleged racist tweets and using his internet influence to prey on his female fans. Many fans argued that Cyrus would manipulate, harass, and send inappropriate messages to his female viewers. Cyrus would come forward confirming this was true and made an apology in late 2020 for the actions he was accused of. A majority of people still haven't accepted his apology. With Doja's behavior being talked about online, her relationship with J Cyrus has also been brought up and heavily scrutinized. 
With the comments from Doja's fan base having shifted over time to be more and more against her, she finally decided to respond to everything. Doja responded to a comment, stating, "I want you all to read this comment and take it as a message. I don't give a **** what you think about my personal life. I never have or will give a **** what you think about my personal life. Goodbye and good riddance, miserable **** haha." After all of Doja's comments mocking her fans and problematic resurfaced controversies, Doja has lost around 900k followers on Instagram. Even though Doja has lost around 1 million followers in total, this will not affect her career in the long term since she is such a widely known artist.