Coachella 2022
After two years of being unable to hold a music festival, Coachella has finally returned for yet another year, filled with some of the biggest names in music today. This music festival was very long-awaited, and I am more than happy to say that this year lived up to its expectations. With hit artists such as Brockhampton, Harry Styles, the Weeknd, Doja Cat, and more performing over the course of these two weekends, fans were ecstatic to get dressed up and back out there into the festival crowds.
Although I, personally, have never gotten the opportunity to attend Coachella, my boyfriend, Nik Ambriz ('22), and friend, Will Mason ('22), both attended and gave me their opinions of their personal experiences at Coachella.
Question: What sold you on the ticket and motivated you to buy it?
Nik ('22): "My friend, Will, came up to me and asked me if I wanted to go, and initially, I was a little skeptical about it and kinda iffy about going, but he convinced me by telling me that it was the end of our senior year and that we needed to live it up before graduating, so I just bought it right then and there."
Will ('22): "What sold me on the ticket was the chance to see Brockhampton's final performance ever live. I had never seen them in concert before, so Coachella would be my last opportunity."
Question: What did you think about the lineup this year?
Nik ('22): "The lineup was good- it was fine. I think that- um- I kinda wish that Kanye would have stayed in the lineup, like, that would have been cool."
Will ('22): "I thought that the lineup was amazing. There wasn't a single moment where we didn't have someone we wanted to see. We even had to miss a lot of performances we did want to see because wanting to see someone else completely outweighed it."
Question: Who was the best performance that you saw?
Nik ('22): "Baby Keem for sure. The whole crowd was going absolutely insane and everyone was kinda pushing me around- it was just completely wild. He even brought out Kendrick Lamar- it was just insane."
Will ('22): "Call me biased, but the best performance in my opinion was Brockhampton. A close second would be Baby Keem, but that's because he brought out Kendrick Lamar as a surprise guest."
Question: Would you go again in the future? Why or why not?
Nik ('22): "I would definitely go again. It was super fun and I loved dressing up and the experience altogether. It is definitely something that everyone should experience at least once."
Will ('22): "I would absolutely go again in the future. After all three days, I felt like my life could never be the same again, especially after all that I had experienced."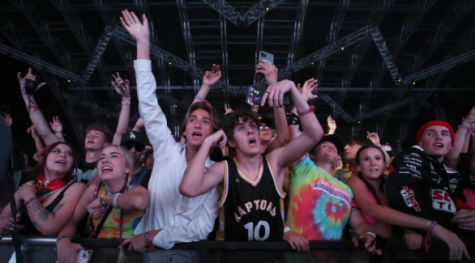 Although Coachella can definitely be a little pricey, I would totally recommend doing more research on it as the festivals continue to occur. Even from watching Coachella from the sidelines, through live streams, I feel as though it is totally worth the money, especially if there is a specific artist that you are dying to see. I hope to be able to go next year, and I hope that hearing perspectives from people our own age persuaded you to try and attend Coachella in 2023.