The Final Words Of Our Hip Hop Senior
As senior year is coming to an end, I wanted to hear about all the emotions my fellow sharks are feeling; so I went into the dance room and asked the Hip Hop team at Santiago what they had to say. The following questions were asked:
How does it feel to be a senior this year?

What did you feel when you performed at your last football game?

Do you want the Hip Hop season to end?

Do you feel accomplished in filling in the coach's role on the team?

What colleges are you leaning toward for the 2023 school year?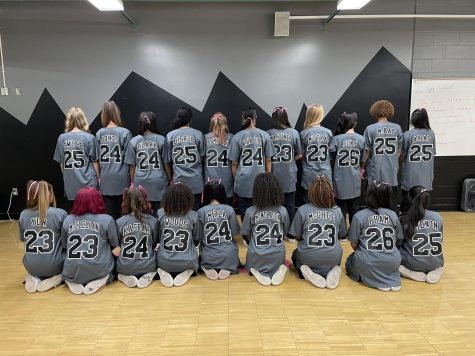 Nicole Hatton (12) is a bit overwhelmed with all the stresses and worries that come with the college process, but who isn't? She says, "It feels a little scary to be a senior because of college apps and a little sad that this is the last year I will be able to participate in some of my favorite high school activities". We all know the feeling we get when we are almost halfway done with high school. It feels unreal and honestly worrisome because it is the last chapter of our childhood and the start of adulthood. Some are ready to leave and some are still reminiscing on the good times we have shared during Hip Hop.
Shaylee Mutka (12) says," No I don't want this season to end, I feel like this team is like a found family to me." It is better to remember the good times with the people you experienced it with than to do it by yourself and be alone with your emotions.
Now it's time to hear from some of our captains to see how they feel about taking on the role of team captain, coach, and choreographer.
Camryn Woods (12) says, "I do feel accomplished for filling the coaches role. All of us captains have really stepped up and produced amazing pieces that the school has enjoyed."
Kayden Martinez (12) also says, "I do feel accomplished filling in the coach's role. All of us captains have shown great leadership and have presented great choreography pieces for our school."
Some of the captains on the Santiago Hip Hop team have choreographed and have been there for the team in many ways. Hip Hop wouldn't be the team we are today without them.
Most seniors such as Nicole, Shaylee, and Julia are looking into in-state colleges/universities; other seniors such as Kayden, Camryn, Treasure, and myself are also looking into out-of-state colleges/universities.
Treasure Mcclean is "looking into some UCs and Cal States, but the goal is out of state."
Being one of the seniors on the Hip Hop team, I am striving to attend a college out of state. All that I know is that when these ladies and myself put our minds to something, we do anything and everything in our power to achieve it. Completing high school, getting good grades, and trying to be the best versions of ourselves is one of the ultimate rewards in life. With some of the heartache high schoolers face, we have also experienced laughter, joy, and so much more. Hip Hop has and will continue to play such a role in Santiago's spirit and events.