The iTunes chart in late July saw something that had never happened before. Flamy Grant, a Drag Queen from San Diego, topped first on the iTunes Contemporary Christian music charts. Her achievement was not an overnight success, though Grant's journey was a lesson proving Christianity and Drag can co-exist and work together. 
Flamy Grant was born Matthew Lovegood in Ashville, North Carolina where they seemed to live in a Religious Bubble." Lovegood's life, at the time, consisted of being at home, then to school, and then to their Fundamentalist Church. Years passed, and Lovegood was a 20-year-old in San Diego, California. They started a new church where they became a Worship Pastor. As time progressed, Lovegood began to question the beliefs they grew up with. Lovegood told KPBS, "Realizing that I'm gay, and that's not going to change, and I am going to embrace that about myself." Once Lovegood came out, they got kicked out of the church. They lost not just a job but the church community that  was a big part of their life. "This is the best space for you; you're safe here with us," said Lovegoodas the church ingrained in them. "As long as you do the right things, believe the right things, and behave correctly, everything will go well for you. And if you don't, your life will turn on its head," said Lovegood.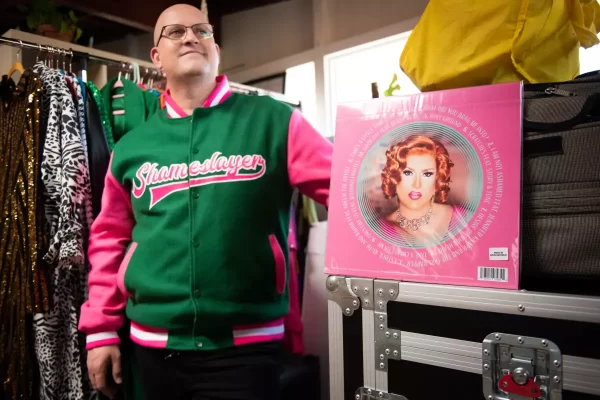 Shortly after Lovegood left the church, they started a podcast called "Heathen." The podcast focuses on spiritual deconstruction. For their whole life, Lovegood believed something about themself was "broken and wrong and sinful and unworthy and unlovable." "This is a podcast about how we move on bad religion with fewer casualties," said the website. Soon after the podcast took off, Lovegood discovered Drag. Lovegood noted, "When I started doing drag, it was inner child work for me… Sitting in my bedroom, painting my face, feeling my oats, and having a good time." The name Flamy Grant was a play-on words from Lovegood's favorite artist, Amy Grant,  from when they were a kid. Lovegood believed that Drag permitted them to live out in their goodness, which eventually led them to stay in the Church.
During the Pandemic, a Pastor invited Lovegood to be part of an online sermon while in Drag."I had no idea what that was going to look like. I'd never seen a Drag Queen, King, Thing give a sermon. That's just not something I had context for," they said. So, they made a practice video on TikTok, putting on their Drag makeup, and giving a 60-second Homily. It went viral. 
Soon after the TikTok was posted, Lovegood decided to add religious components to their Drag. That is how Flamy Grant's first album, Bible Belt Baby was born. It was released in October 2022. In the album, Flamy Grant wrote about their religious trauma during their formative years in childhood. "I want them to see that there is such a good life for you after you a leave high demand, toxic religion,"said Lovegood and continued to note"…  you don't have to leave your entire faith structure. You can stick around and do it better than it's been done before." Lovegood explained how every time they would perform somewhere, they felt a personal connection with at least one person in the crowd who had gone through similar experiences as themself.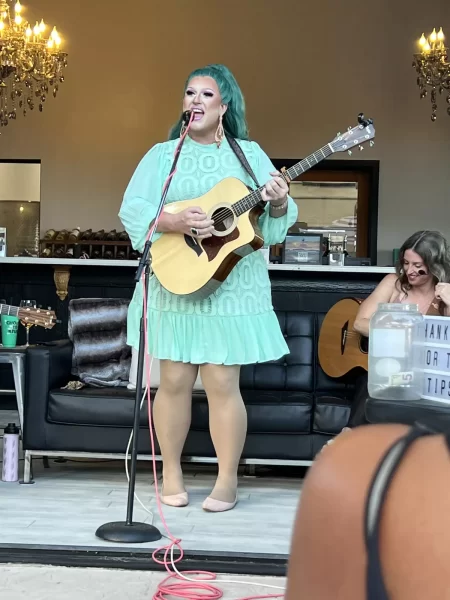 In July, Flamy Grant asked their TikTok followers to help, the closest thing they had to a worship song on their album, "Good Day," to break onto the iTunes Christian music charts. Not thinking much of it, Lovegood went to bed, and once they woke up, they saw one of their songs hit #6 in the Christian iTunes chart the next day. By the end of the day, the song topped the chart, following the rest of their album which lingered on the charts for about a week. "By the next morning, 'Good Day' was at number six; by the end of the day, number one, and then my album became number one,"said Lovegood with a smile and "Nine days later, my album is still at number one. I just wanted to break the top 100."
Surprised with the outcome, Lovegood thanked their supporters and soon shared their life stories on Rolling Stone and Billboard. "It was so rare to find a place where you could dream out loud," Flamy says. We can learn from Flamy Grant's story, use our voices to find people like us, and create a safe community for one other.