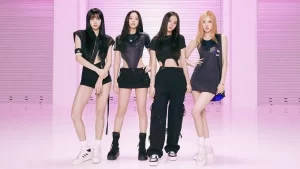 Blackpink, regarded as the most known female K-pop group, has impacted the music industry since its debut in August 2016. They debuted with four members, Jisoo, Jennie, Rosé, and Lisa, with their single album SQUARE ONE. Both their debut song "Boombayah" (붐바 야) and "Whistle" (휘파람) immediately hit both No. 1 and No. 2 spots on the World Song Charts. Immediately after this, they released their second single album, SQUARE TWO, which didn't garner as much attention but produced some fan favorites of ¨Stay "and ¨Playing with Fire¨. They continued producing more, releasing a single called ¨As If It's Your Last ", and an EP called BLACKPINK (Japanese Version). In 2018, they released their third single called SQUARE UP, which included the songs, ¨DDU-DU-DDU-DU (뚜두뚜두)¨, ¨Forever Young¨, ¨Really¨, and ¨See U Later¨.
Their song, ¨DDU-DU-DDU-DU¨, brought the group to the charts at Billboard's Hot 100, hitting No. 55, the highest by any K-pop girl group. One year later, they released another EP titled Kill This Love. It garnered much attention in Korea and internationally and gained almost 100 million views on its music video within the first 24 hours. After the release of this EP, Blackpink became the first K-pop girl group to perform at the famous music festival Coachella. They would continue to release more EP's of their previous work, many of which were Japanese versions or remixes. They didn't release their first album, titled THE ALBUM, until October 2, 2020, four years after their initial debut as a group.
They won an MTV Video Music award, becoming the first female K-pop group to do so. They continued the promotion of their album and wouldn't release their second album, titled BORN PINK, until September 16, 2022, almost two years after the release of their first album. In between all these group projects, each group member also made their solo debut. Jennie was the first of the members to debut with a single called SOLO, which was released on November 12, 2018. Rosé debuted as a solo artist next with a single titled R that included two songs: ¨On the Ground¨ and, ¨Gone¨, on March 12, 2021. Lisa was close after releasing her single, titled LALISA, on September 10, 2021. Her single included two songs titled LALISA and Money. Jisoo was the last member to make her solo debut on March 31, 2023, with her single titled ME, which included two songs: ¨FLOWER¨ and ¨All Eyes On Me. ¨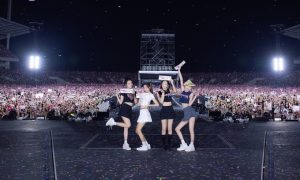 Blackpink's contract with YG Entertainment was seven years, typical in K-pop, especially groups from the Big 3 entertainment companies: YG Entertainment, JYP Entertainment, and SM Entertainment. As their contract renewal was coming up, many fans began to speculate whether or not Blackpink members would resign from YG Entertainment. Many believed that Blackpink shouldn't renew their contract because of Blackpink's reported mistreatment, while others believed differently.
Many of the fans of Blackpink believe that YG's lack of comebacks for the famous girl group would cause them to leave the company. Blackpink's comebacks averaged around a year or more between their releases, making many fans outraged. One fan counted up all the songs released, counting up to only 40 songs between group releases, collaborations with other artists, and even solo work. According to an article by Sports Seoul, the girls are currently negotiating a separated-but-together contract, meaning they'd promote six months out of the year as a group despite the difference in companies. Rosé was reported to be the only one who resigned from YG Entertainment, while Jisoo and Lisa have already found different companies to sign with. At the same time, Jennie's future is still a mystery. However, whether or not the members decide to leave YG or stay, they will still be promoted as Blackpink for their millions of adoring fans.